What are the top places to visit in Ninh Binh city? If you're looking for all the note-worthy attractions in Ninh Binh to add to your travel plan, then this post will be a helpful guide for you.
Ninh Binh is a land of endless paddy fields, extensive limestone mountains and distinctive wild animals (mountain goats, birds, butterflies,..). Traveling to the world's most impressive karst landscape, you will be mesmerized by the beauty of the raw nature that has been formed over thousands of years. Without further ado, let's dive into the list of wonderful Ninh Binh attractions.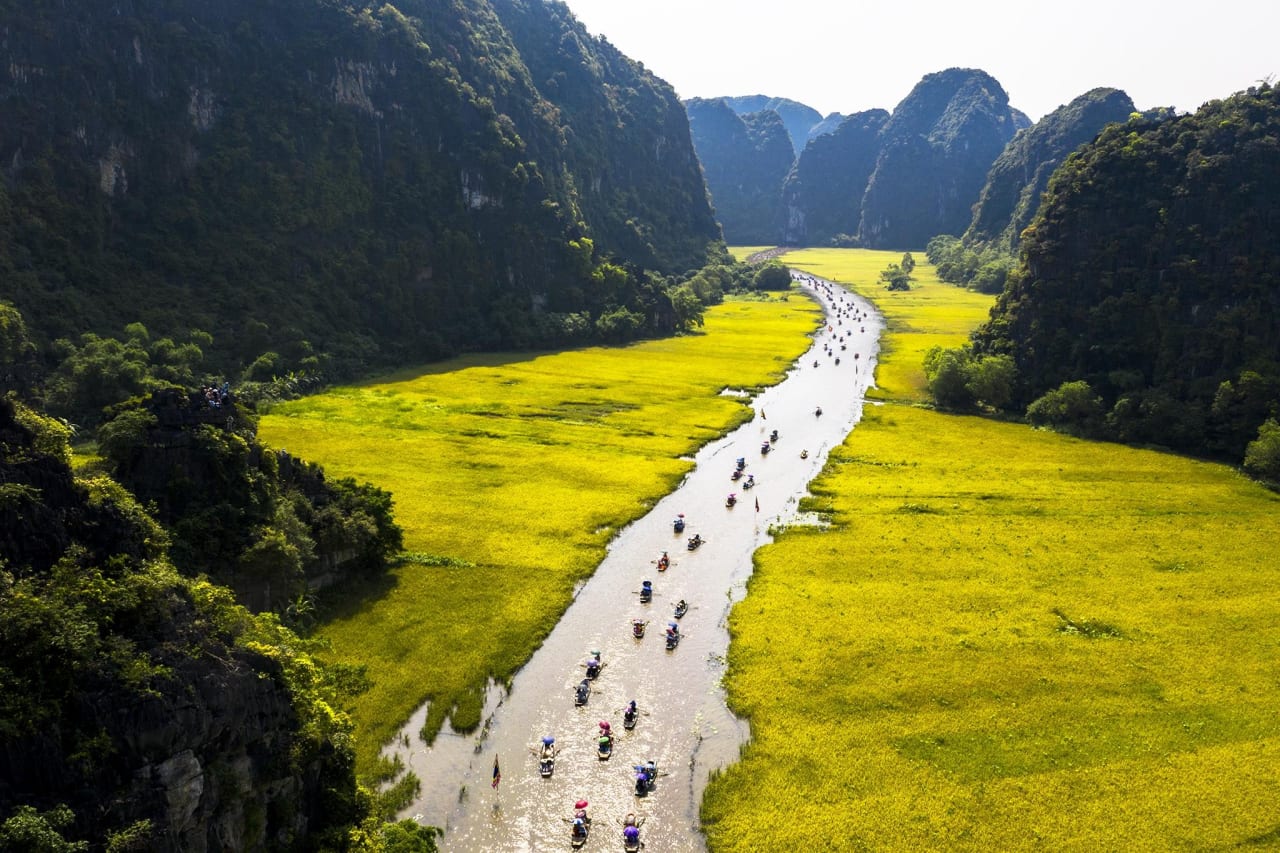 The Best Time To Go To Places To Visit In Ninh Binh
The best time to visit Ninh Binh attractions is from May to early June. During this time, you can admire the beautiful golden paddy field in Tam Coc Ninh Binh. Plus, though it's summer from May to early June, the heat is less severe than that of July. So, this is the perfect time to pack your bag and take a trip to the best places to visit in Ninh Binh.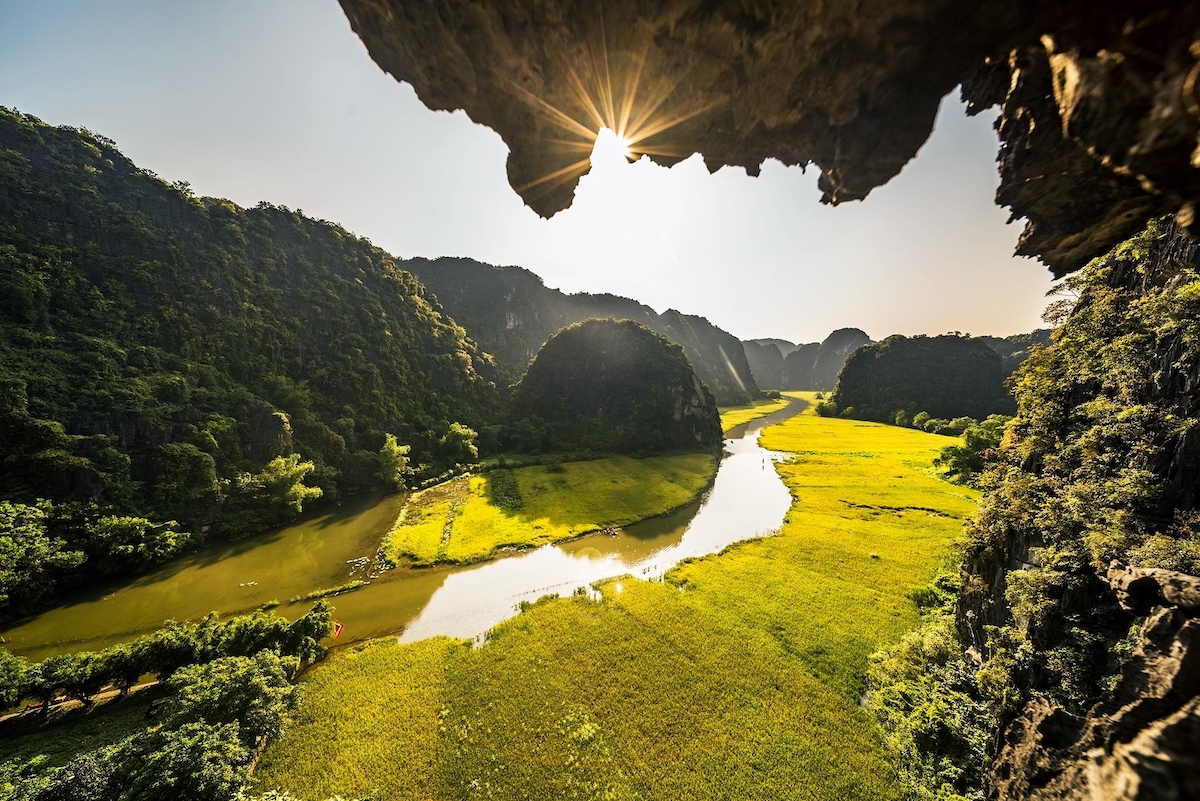 Hanoi To Places To Visit In Ninh Binh Distance
The distance from Hanoi to the top-rated places to visit in Ninh Binh
In what ways can we reach the gorgeous Ninh Binh? The distance from Hanoi to Ninh Binh's city center is about 93km to the South. It will take approximately 2 hours to travel this distance by car. There are many car options like bus, private car,…All are good choices for you to visit Ninh Binh. Because there are many types and brands, you should carefully check their reliability to pick out the best option for yourself.
As for motorbikes, the road from Hanoi to Ninh Binh is not hard to figure out but it takes a good and knowledgeable rider to conquer highways. Moreover, It will take more than 3 hours to come to places to visit in Ninh Binh by motorbike. You should carefully consider this option as it contains many risks.
If you don't want to give yourself a headache while figuring out all this information about the vehicles to Ninh Binh, then just leave it all to Gadt Travel. Going to Ninh Binh will be a breeze with our help!
You won't have to worry about anything since we will help you find the most comfortable and suitable car options for you. Since our team has accumulated all the information there is, you can skip reading a hundred reviews and drown in dozen of "tips and guides" posts to look for the most affordable and good car option. Hence, we are ready to suggest to you the best-fitting car for your trip to Ninh Binh.
Top Places To Visit In Ninh Binh
Tam Coc Ninh Binh
Tam Coc is located in Ninh Hai Commune, Hoa Lu District, Ninh Binh Province. It is also known as "Ha Long Bay on Land". Tam Coc, meaning "three caves", includes Ca cave, Hai cave, and Ba cave. All three caves are formed by the Ngo Dong River, a breath-taking Ninh Binh river, pierced through the mountains.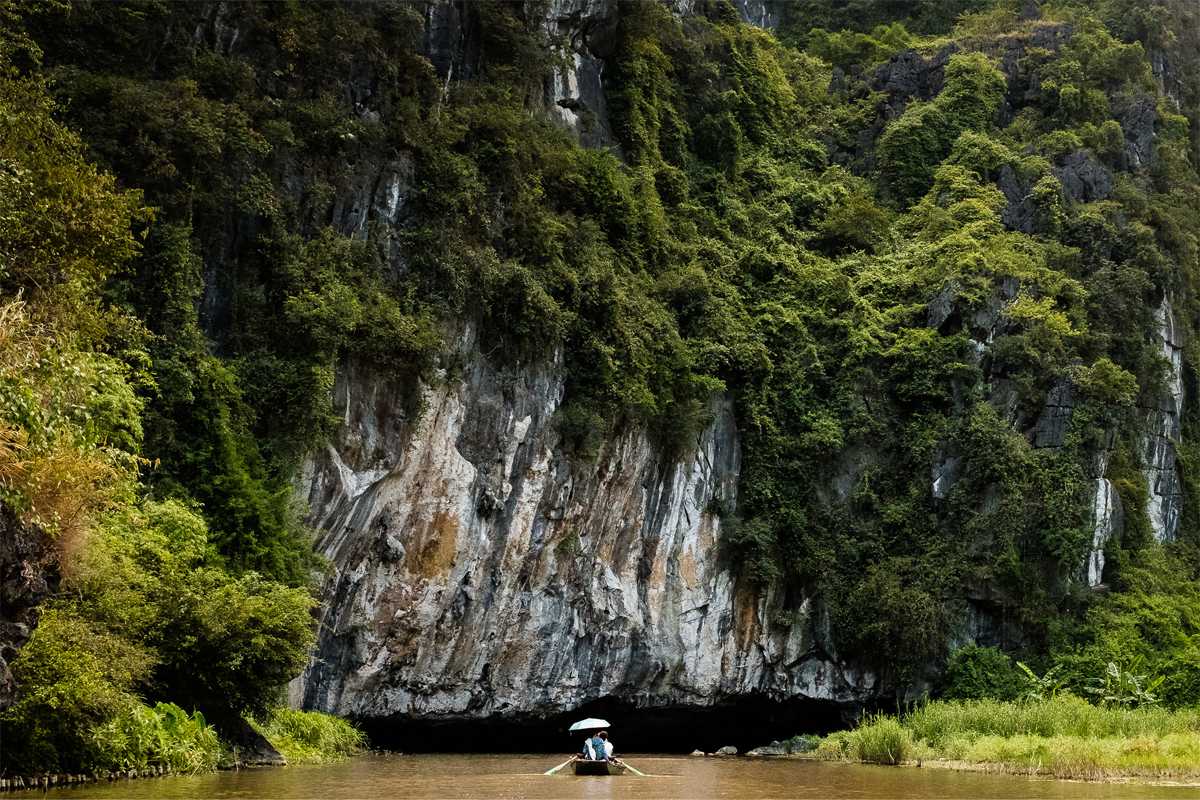 To visit Tam Coc Ninh Binh, tourists will hop on the sampan boat. As you go along the emerald green Ngo Dong river, you will see the three caves (Tam Coc) mentioned above.
You will be mesmerized by the spectacular scenery of Tam Coc Ninh Binh as it is characterized by the harmonious combinations of thousand-year stalactites, rock, and opaque green water.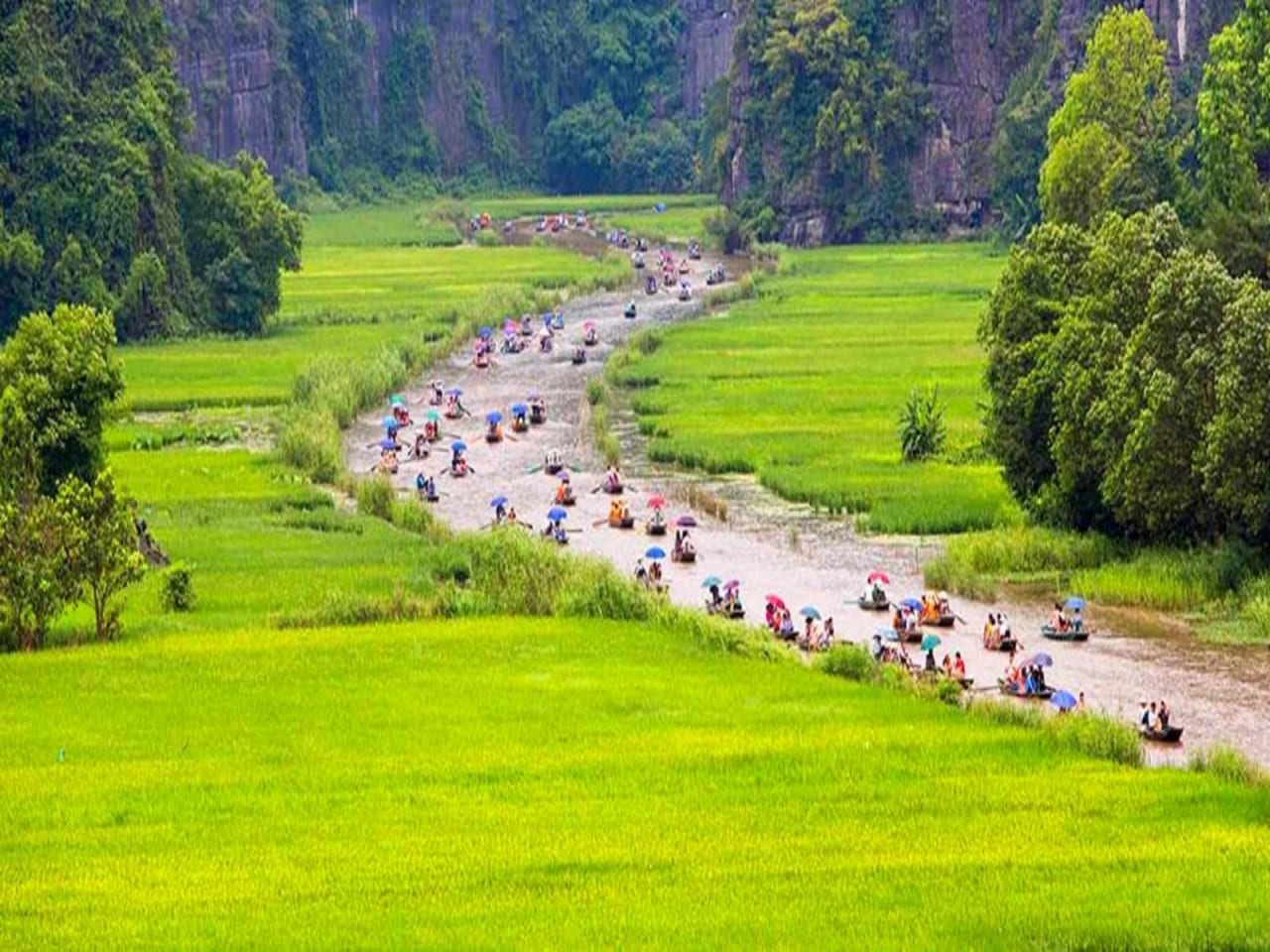 Trang An Complex Ninh Binh
The picturesque scenery of Trang An complex lives up to its title of the most impressive karst mountain in the world. To boot, if you're a fan of the movie King Kong, then Ninh Binh King Kong island, where the movie is filmed, is not to be missed.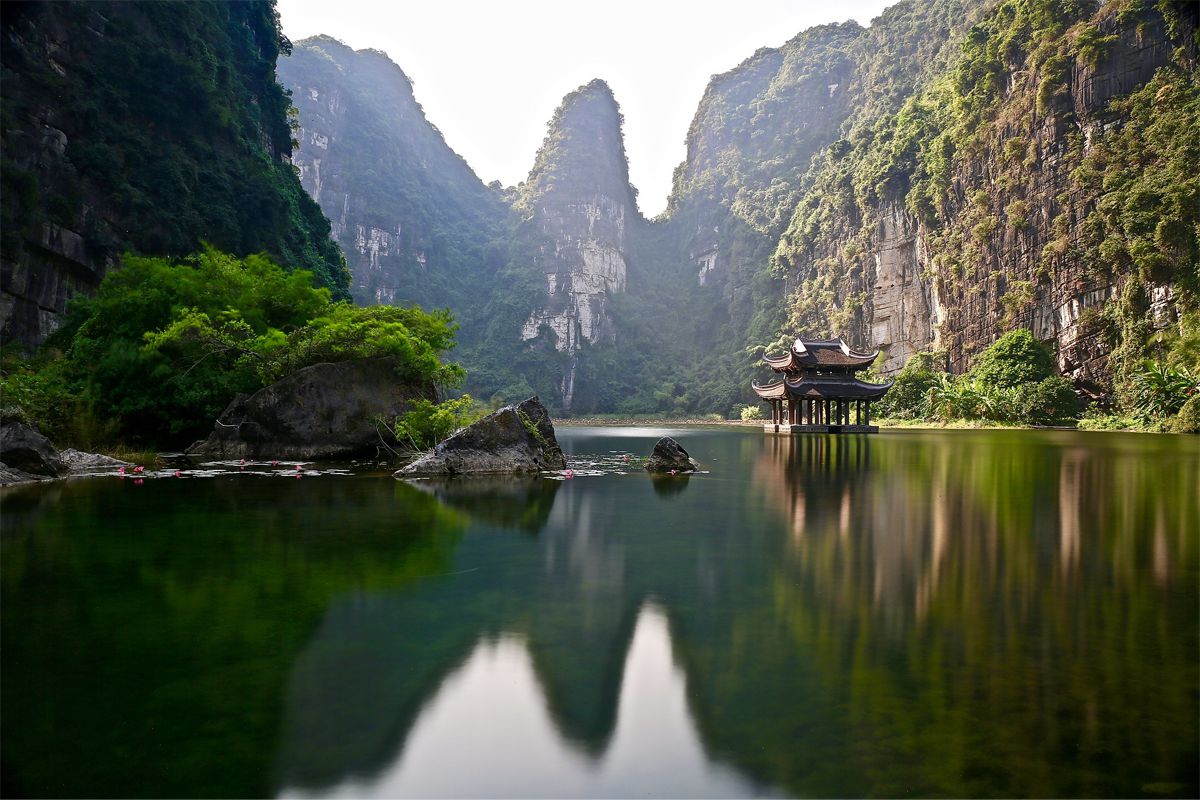 Tourists can choose to boat along the Ninh Binh river that goes through mysterious yet inviting half-submerged caves or venture through the vast greenery paddy fields on a bike.
No matter what ways you choose to explore Trang An complex, Gadt Travel can help! By attentively listening to your requests, we can come up with the most suitable Ninh Binh itinerary for your trip.
Have a look at our available package tours to Ninh Binh, and see if it's the perfect fit for you. If it needs some changes, don't hesitate to reach out to our team.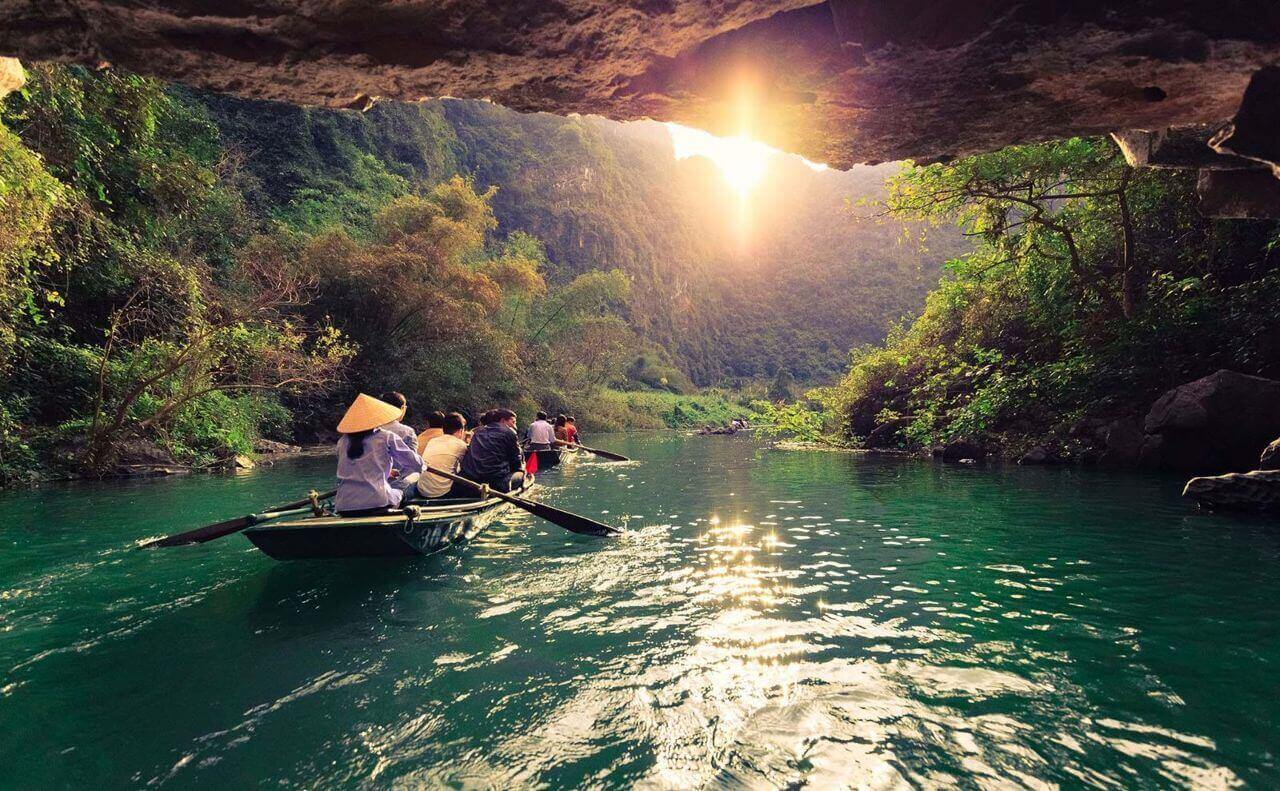 Ninh Binh Temple and Ninh Binh Pagoda
Bich Dong Pagoda Ninh Binh
Passing the stone bridge leading to Bich dong Pagoda, you will see the historic gate with beautiful carvings on the old structure from 1428. The gate is also a great photo spot for tourists as it is the highlight of Bich Dong Pagoda. Heading inside, three-layer of ancient pagodas await you: Ha (Hạ), Trung, and Thuong (Thượng). These are built in ascending order so you have to climb some steep to reach the oasis of peace and tranquillity in Ninh Binh pagoda.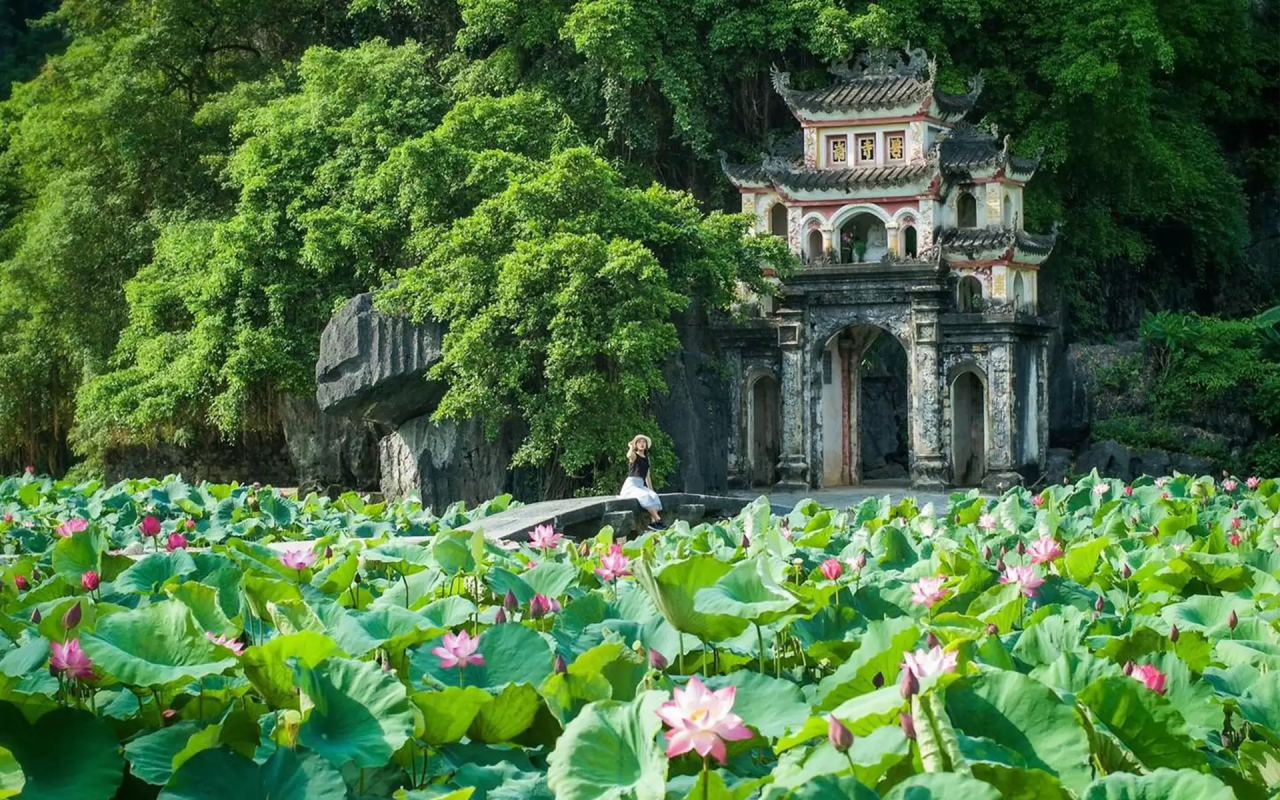 If you're staying in Tam Coc area then getting to Bich Dong pagoda by bike is the best option as you can slowly take in the beautiful sceneries. Furthermore, biking in the poetic sceneries of all the gorgeous places is a good choice.
If you are considering this option then take a look at our Easy biking tour in Ninh Binh or tell us all your ideas and we can help you plan your Ninh Binh day trip.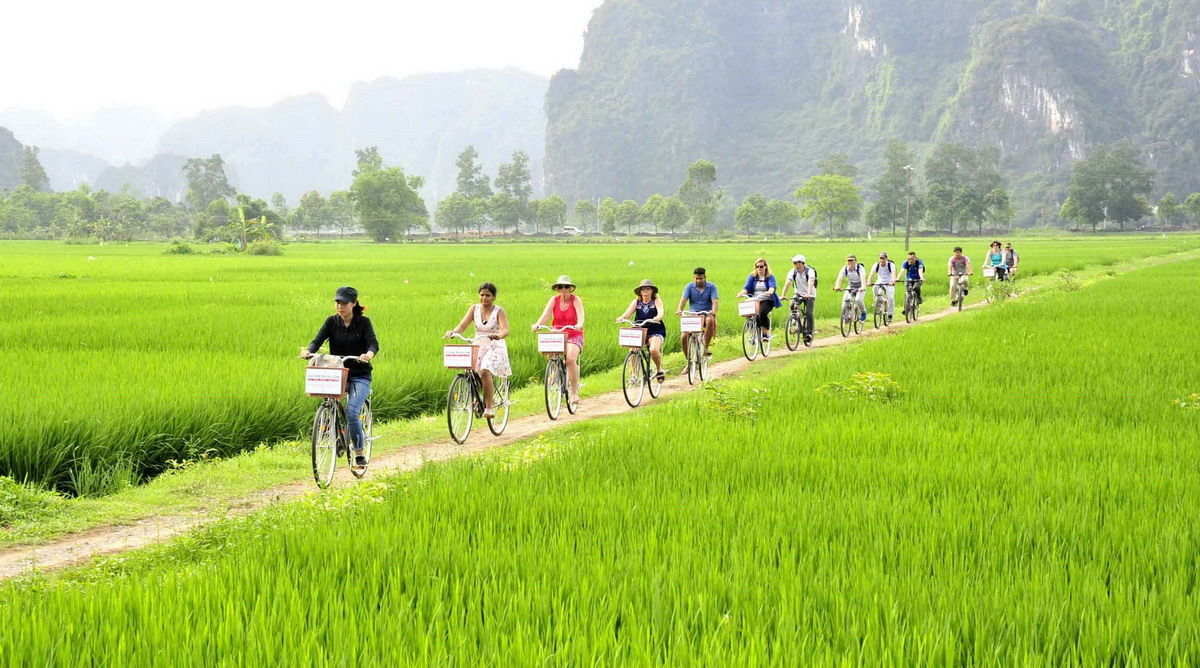 Bai Dinh Pagoda Ninh Binh
Bai Dinh is a complex of pagodas known for its Asian and Vietnamese records. Some of them are the largest gilded golden Buddha statue in Asia, and the longest La Han corridor in Asia. This is one of the largest Buddhist centers in Vietnam.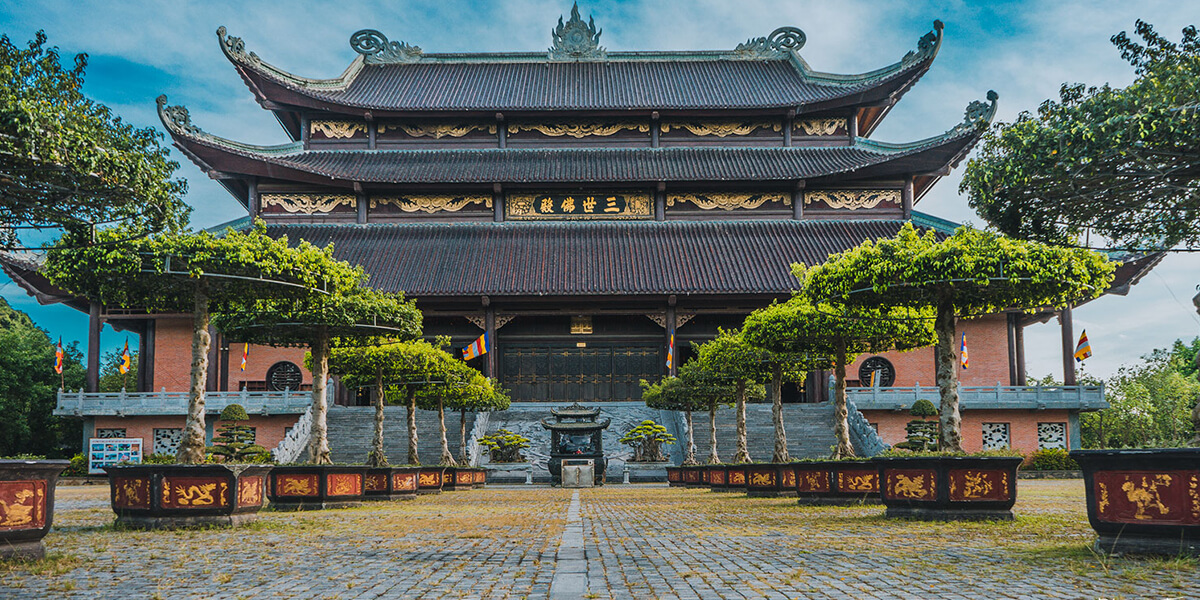 There are many places to visit in Bai Dinh Pagoda complex like the Buddha dharma lord temple, the Temple of three identical statues of Buddha, Bell tower. You can take the whole morning or afternoon to look around. Sadly, with that short amount of time, you won't cover the whole complex. So, choose the places you want to visit in advance and plan out your tour in Bai Dinh wisely.
If you need a guide through this complex, feel free to see our itinerary for Bai Dinh pagoda Ninh Binh or contact us so we can help you plan your tour.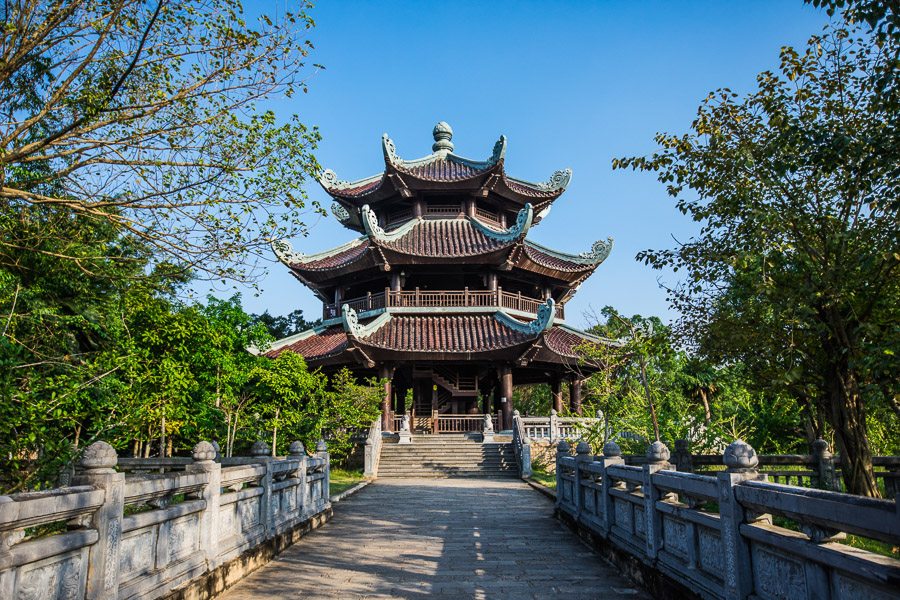 Ninh Binh Caves
Mua Cave Ninh Binh – Must-see Ninh Binh caves
Hang Múa or Mua cave Ninh Binh is one of the top places to visit in Ninh Binh. There's a Vietnamese legend about Mua Cave: When king Tran visited Hoa Lu the ancient capital of Vietnam, he often use Mua cave to have dancing performances by the ladies in the imperial. As a result, the cave is named Hang Mua (Dancing Caves Ninh Binh).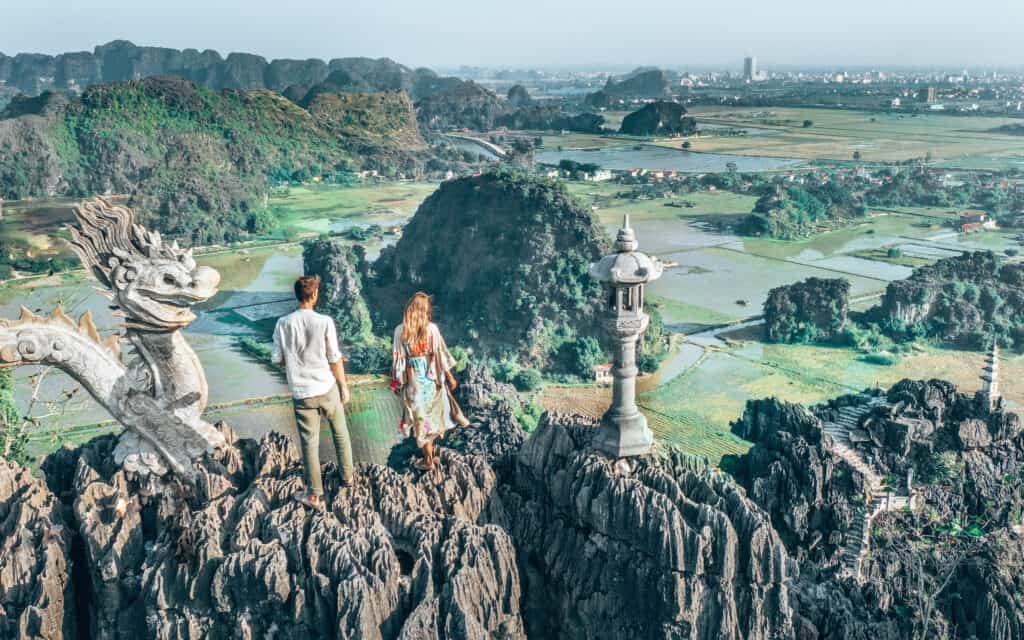 Mua cave is often paired with other tourist attractions in Ninh Binh like Tam Coc or Hoa Lu since this will help you see Ninh Binh from different perspectives. From the majestic in-depth beauty of half-submerged caves to the magnificent high-up view of the mountain peak.
If you want to explore Ninh Binh at your own pace and schedule then see our sample tours for visiting famous places to visit in Ninh Binh and let us plan out the perfect trip for you.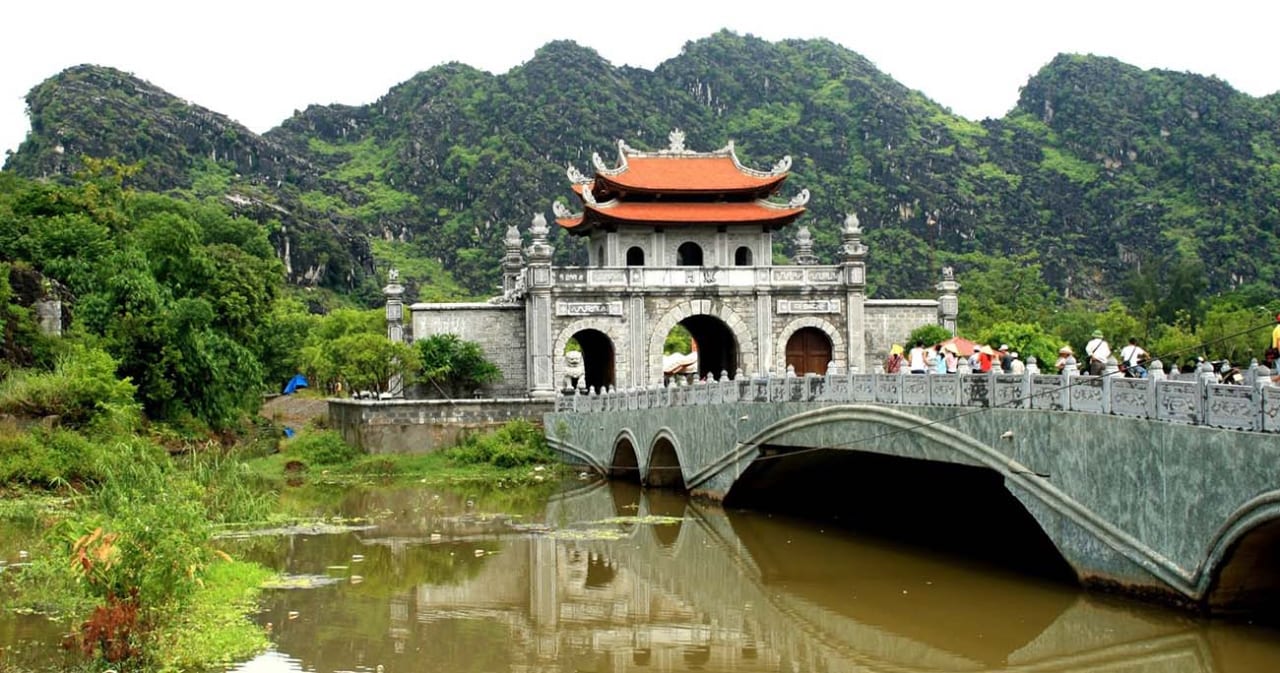 Am Tiem Cave – Tuyet Tinh Coc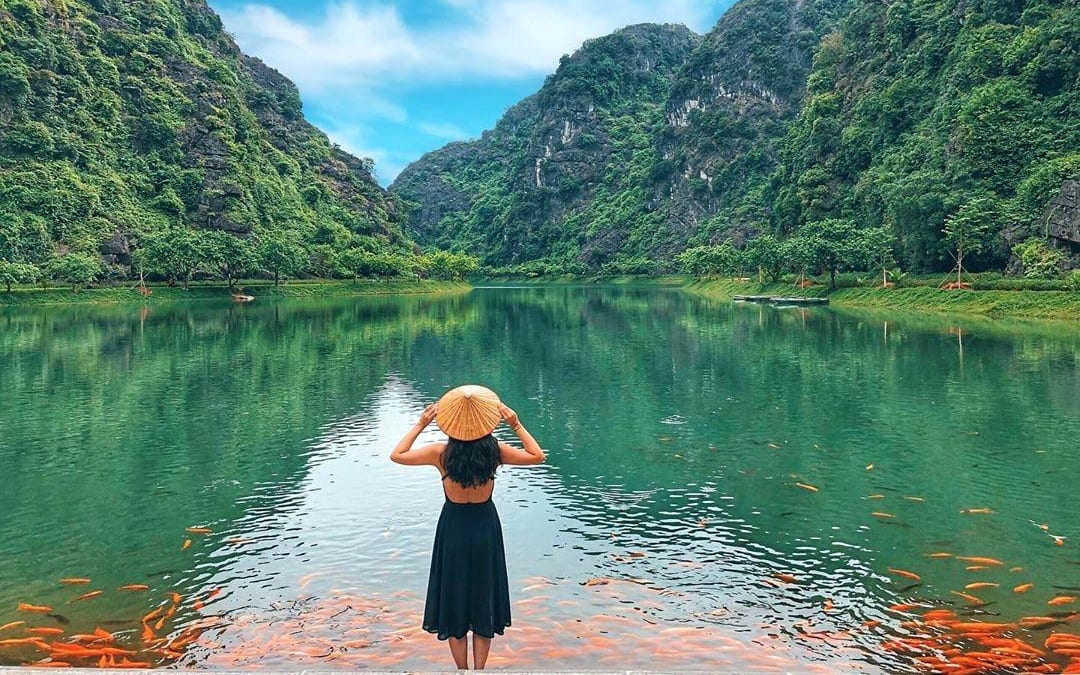 Once an execution ground for criminals under the reign of King Dinh Tien Hoang, nowadays, Am Tiem cave or Tuyet Tinh Coc is gaining popularity in the recent year among the popular attractions in Ninh Binh. Here, there's also passed down the love story of princess Phu Dung (the daughter of King Dinh Tien Hoang) and her husband.
This is a place worth visiting in Ninh Binh so if you want to add this to your excursion in Ninh Binh. Then, please contact us to plan for your one-of-a-kind Ninh Binh day trip.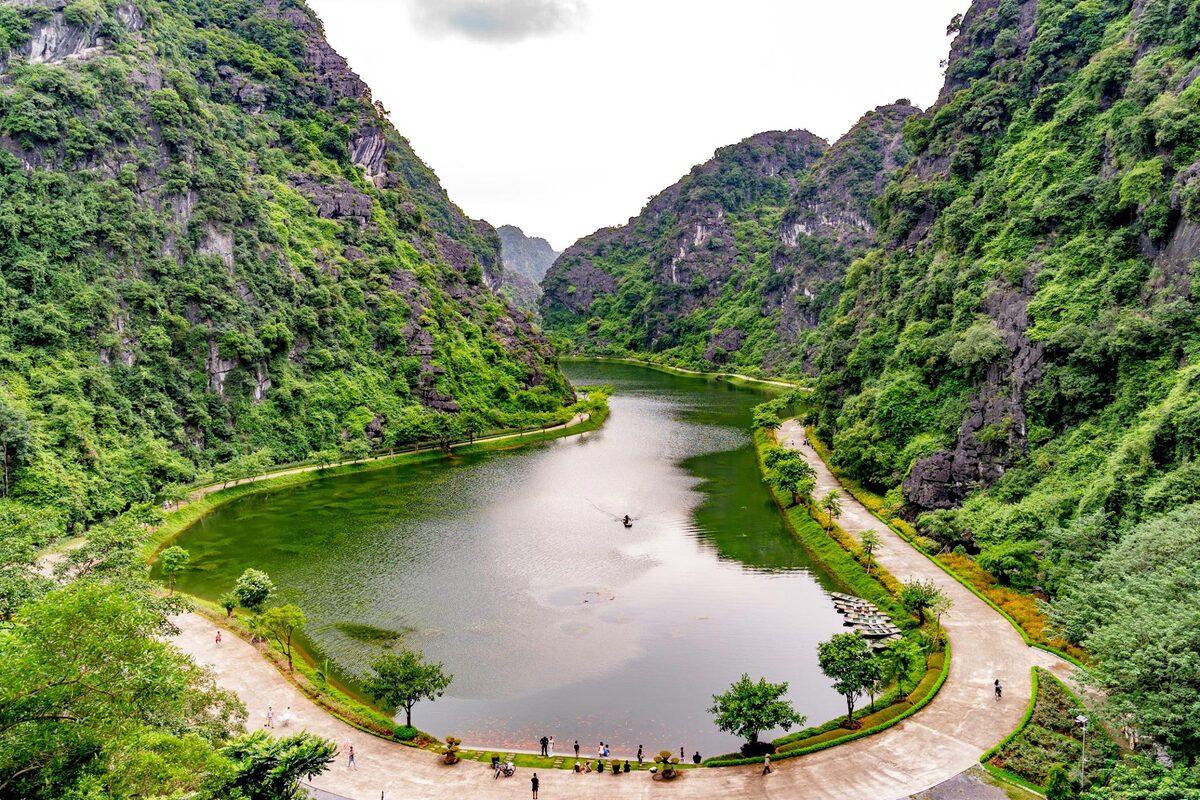 Hopefully, with our sharing, you will find for yourself a safe and relaxing time in Vietnam!
If you need advice on Vietnam tours and customized tours, don't hesitate to contact us:
𝑮𝒂𝒅𝒕 𝑻𝒓𝒂𝒗𝒆𝒍: 𝑻𝒓𝒂𝒗𝒆𝒍 𝒚𝒐𝒖𝒓 𝒘𝒂𝒚
🅖🅐🅓🅣 🅣🅡🅐🅥🅔🅛
☎️Hotline: +84-9-4161-8800 (WhatsApp)
💌Email: sales@gadttravel.com
🌐Website: https://gadttravel.com