Are you a first-time solo tourist and about to travel alone in Vietnam? Are you still hesitant to know what to do? Don't worry, GadtTravel is here to provide comprehensive guides for a Vietnam solo travel beginner. Keep reading to know what to prepare for your exciting trip!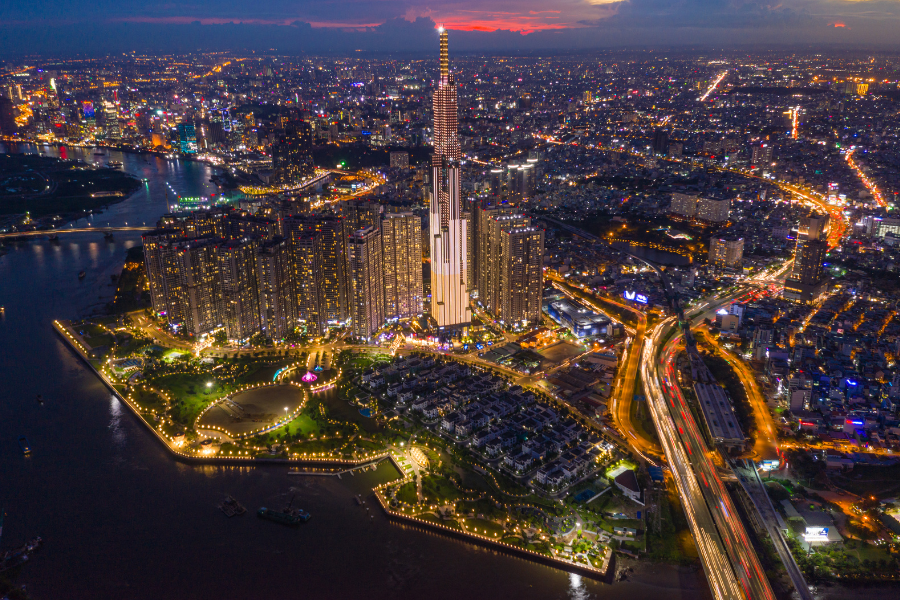 1. Planning for your Vietnam solo travel
The first step you should do is to research and have an overview plan for your solo trip to Vietnam. Specifically, you need to cover several aspects: budget, trip length, and destination you want to go to.
1.1 Expect your trip duration
While identifying the duration of your Vietnam trip, you should answer two questions: "How long can you go?" and "What is the required time to explore a destination". This helps you to estimate the trip duration and arrange a reasonable Vietnam solo travel itinerary.
Note: Please also consider the moving time from one city to the other. The moving time depends on your chosen transportation. There are 3 common vehicles that you can choose from: planes, trains and buses – each option will have its pros and cons.
1.2 Where should solo tourists visit in Vietnam?
After finishing the first step, let's decide where to go in Vietnam at your expected time. Researching the destination you want to go to thoroughly is important before enjoying your Vietnam trip. Searching for its basic common features, which tourist attractions in the city you want to go to or highlight activities you want to take part in,…
If your trip duration lengthens 4-5 days, you can visit 1 of 3 parts of Vietnam (North – Central – South). 5-7 days are appropriate for solo tourists who want to explore 2 parts. And to experience all of Vietnam, you may spend at least 10 days on your solo trip to Vietnam.
Here are some suggested Vietnam highlight destinations and suggested time you should spend visiting: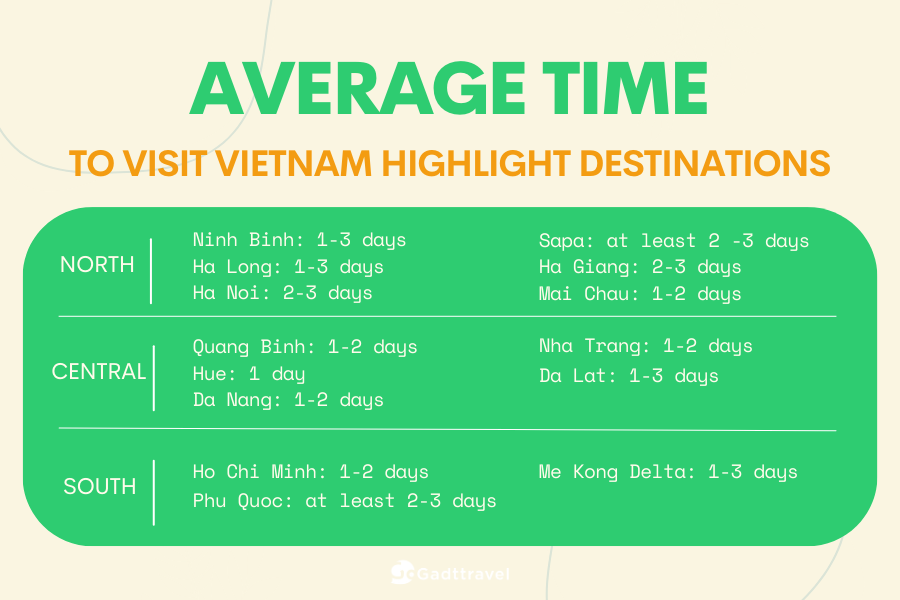 For first-time solo tourists who are fortunate enough to embark on the journey and are rewarded with an unforgettable experience, Son Doong Cave is a wonderful choice. Located in the Phong Nha-Ke Bang National Park in Quang Binh Province, it is renowned as the largest known cave in the world by volume. However, to witness the majesty of one of the world's most incredible natural wonders, you have to consider its high cost (up to $3000), time-consuming (spend about 5-7 days), having good physical health and making a reservation 6 months (or longer) in advance.
1.3 Drawing up the trip's budget
What you need to do next is to draw up the trip's budget for your solo vacation to Vietnam. Each person's budget is different due to the economic condition and basic needs. By having a well-thought-out budget, you can make the most of your experience without worrying excessively about money, allowing you to focus on enjoying your journey and creating lasting memories.
This budget may include: Travel Insurance, Visa Fees, Flights ticket, Accommodation, Food & Drink, Transportation, Sightseeing & Activities and Additional Expenses
To have a clearer look, you can check out our previous post and provisionally estimate How much Vietnam trip cost from India
1.4 Preparing essential documents & equipment
Preparing essential documents is a must when you're about to have a trip, especially going abroad. You should prepare at least 1-2 months before your Vietnam solo travel. Always research the specific entry requirements of the country you're visiting and make sure you have the necessary documents well in advance. Stay informed and prepared to have a safe and enjoyable vacation abroad.
Visa, passport, identity papers, ID Card,… are the required documents. You can refer to the below list:
Passport: A valid passport is a must for international travel. Ensure that it is not expired and has enough blank pages for visas and entry/exit stamps.
Visa: Check the visa requirements to enter the destination country and obtain the appropriate visa before you travel.
Travel itinerary: Keep a printed or digital copy of your travel itinerary, including flight details, hotel reservations, and any tour bookings.
Travel insurance (optional): While not mandatory, having travel insurance is highly recommended to cover medical emergencies, trip cancellations, lost luggage, and other unforeseen events.
International driving permit (optional): If you plan to drive abroad, check if you need an international driving permit (IDP) in addition to your driver's license.
Prescription medications: If you take prescription drugs, carry them in their original labelled containers and bring a copy of your prescription.
Credit/ debit cards and cash: Carry some local currency of your destination and internationally accepted credit/ debit cards for transactions.
For the essential needs, don't forget to bring a hat, sunglasses, sunscreen for protection against the sun, medicines, bug bite relief products, swimming gear,… Vietnam has a tropical climate, so pack lightweight and breathable clothing. You also need respectful clothing when visiting temples, pagodas, or other religious sites, dress modestly, covering shoulders and knees.
2. Design your detailed Vietnam solo travel itinerary
After planning, you will need to come up with a detailed plan that includes airfare, hotel rooms, programs, and tours,…
2.1 7-day solo trip to Vietnam sample
For your better understanding, we give you a brief sample Vietnam solo travel schedule for 7 days, exploring all 3 parts. You can completely customize yours easily later with our suggestions below.
Day 1: Hanoi Arrival
After finishing the check-in process, you can spend the remaining first day in our capital city. Here are some suggestions to consider:
Enjoying street food with drinking beside Train Street
Trying delicious cuisine: Pho, Bun Cha…
Take a cyclo (cycle rickshaw) tour around the city to experience Hanoi from a unique perspective.
Learn about Vietnam's history by visiting many historical destinations, such as Hoa Lo Prison, The Temple of Literature, Hoang Thanh Thang Long,…
Day 2: Trang An Boat – Bai Dinh Pagoda – Mua Cave
Visit Bai Dinh Pagoda with 500 La Han statues and the largest bronze Buddha statue in Vietnam, Trang An eco-tourism site for boat trips, Halong Bay, and climb Mua Cave to Lying Dragon Mountain for stunning Tam Coc photos.
For more details: https://gadttravel.com/tour/one-day-excursion-to-trang-an-bai-dinh.html
Day 3: Halong Bay – Sung Sot Cave – Titop Island
Experience Halong's Bay's ancient limestone pillars and islets on a traditional boat, sample Vietnam's delicious seafood lunch, explore "Surprising Cave," and engage in activities like swimming, kayaking, sunbathing, and relaxation.
For more details: https://gadttravel.com/tour/halong-bay-one-day-tour.html
Day 4: Flight to Da Nang – Linh Ung pagoda – Marble Mountain – Hoi An
Take in some of the area's scenic and historic highlights: from the giant statue of the Lady Buddha at Linh Ung Pagoda, and the fascinating beauty of Marble Mountains to the traditional merchant houses and assembly halls of Hoi An's UNESCO World Heritage-listed Ancient Town.
For more details: https://gadttravel.com/tour/linh-ung-pagoda-marble-mountain-hoi-an-from-da-nang.html
Day 5: Ba Na Hills – Golden Bridge – French Villages – Flight to HCMC
Explore Da Nang City by cable car to Ba Na Hills, a UNESCO-listed biosphere reserve. Enjoy panoramic views at Vong Nguyet Hill, old French villas, Debay Cellar, Le Jardin D'Amour, …, visit Fantasy Park and Golden Bridge.
For more details: https://gadttravel.com/tour/ba-na-hills-tour-from-da-nang-the-road-to-heavenly-scenery.html
Day 6: Mekong Delta
Explore the Mekong Delta by rowing boat, visit coconut gardens, and workshops, and enjoy local lunch with unique Mekong cuisine.
For more details: https://gadttravel.com/tour/full-day-excursion-to-mekong-delta-from-hcm-city.html
Day 7: Ho Chi Minh City tour – Departure
Explore Vietnam War history, visit Saigon attractions, and admire French architecture at Ben Thanh Market.
For more details: https://gadttravel.com/tour/ho-chi-minh-half-day-city-tour.html

2.2 Estimating your solo travel expenses
This estimation is based on the above brief 7-day sample Vietnam solo travel schedule. We also provide you with some useful tips for first-time solo tourists to save your budget.
Travel fees:
E Visa fee: $25/ person.
Fees for travelling between destinations
From India to Vietnam and vice versa
International airfare: About ₹20,000 – ₹25,000 for roundtrip. Airfare will depend on flight time. You should book early to obtain discounts from airlines.
Within Vietnam
Airport pick-up service fee: You can order a taxi, bus, motorbike or book Gadt Travel's private car service.
Note: You should book it before travel as finding a taxi at the airport is difficult, besides, the taxi fees can be costly if you directly catch a taxi at the airport.
Domestic airfare: Vietnam is a country with a long territory, so to move between regions you will need to travel by plane. For example: To move from Hanoi (Northern Vietnam) to Da Nang (Central) you will need to take a flight.
Train ticket: Instead of travelling by plane, you can travel by train, this is an interesting experience you can try. However, it will take you a lot of time to move. We recommend that you only book train tickets to experience one route.
Bus tickets: Another option is to take a bus. However, we do not recommend booking a bus with long routes even though it can save you money. You will waste a lot of time and fatigue.
Fees for moving within the city: Depends on each person
Hotel & accommodation: Based on each person's preferences, you can stay in a hostel, homestay, or dorm for cost savings or at an above 3-star hotel.
Note: We recommend you look for accommodation which is located in the centre area due to the convenience.
Self-sufficient meals: Depends on each person
Fees for travel day tours:
Day 1: Hanoi Arrival: from $24
Day 2: Trang An Boat – Bai Dinh Pagoda – Mua Cave: from $49
For more details: https://gadttravel.com/tour/one-day-excursion-to-trang-an-bai-dinh.html
Day 3: Halong Bay – Sung Sot Cave – Titop Island: from $50
For more details: https://gadttravel.com/tour/halong-bay-one-day-tour.html
Day 4: Flight to Da Nang – Linh Ung pagoda – Marble Mountain – Hoi An: from $33
For more details: https://gadttravel.com/tour/halong-bay-one-day-tour.html
Day 5: Ba Na Hills – Golden Bridge – French Villages – Flight to HCMC: from $71
For more details: https://gadttravel.com/tour/ba-na-hills-tour-from-da-nang-the-road-to-heavenly-scenery.html
Day 6: Mekong Delta: from $30
For more details: https://gadttravel.com/tour/full-day-excursion-to-mekong-delta-from-hcm-city.html
Day 7: Ho Chi Minh City tour – Departure: from $22
For more details: https://gadttravel.com/tour/ho-chi-minh-half-day-city-tour.html
Note: This is based on the above brief sample Vietnam solo travel itinerary. Please note that this is just for your reference, this solo tour package fee depends on where you go, which kind of solo tour packages you book…
3. Booking website for your Vietnam solo travel
Based on your preferences and online deals, you can book the flight ticket, accommodation,… reasonably to save your money. Here are some recommended websites that single travellers should know!
3.1 Airfares
Currently, Vietnam Airlines and Vietjet Air are offering direct flights from India to Vietnam, making it convenient to travel between the two countries. You can alternatively book a transit flight via Indigo.
Makemytrip.com: MakeMyTrip – #1 Travel Website 50% OFF on Hotels, Flights & Holiday
Cleartrip.com: Cleartrip: #1 Travel Booking Site, Book Hotels, Flights Online with Great Offers.
Indigo: Book Domestic & International Flights at Lowest Airfare – IndiGo (goindigo.in)
Note: GadtTravel suggests your arrival should be in Hanoi and the departure in Ho Chi Minh City or vice versa. If these two destinations are not in your schedule, you can rearrange them based on your Vietnam trip plan.
3.2 E-visa
An electronic visa (E-visa) is one of the visa types issued to foreigners by the Vietnamese Immigration Department via an electronic system. Vietnam E-visa is valid for a maximum of 30 days, single entry.
To get the E-visa, please access this website and submit the required information: E-visa
Additionally, you can apply for your E-visa via GadtTravel for $10 extra.
3.3 Hotels & Accommodation
Here are some suggested websites for booking hotels:
Note: There is a noticeable difference between Booking.com and Agoda websites. While the fee shown on the Booking.com website includes VAT and service payment…, that of Agoda in contrast, excludes the other fees.
3.4 Booking appropriate day tours
Booking package tours when travelling can offer several benefits and advantages that enhance your overall travel experience, especially when coming to a new country that you don't know much about.
Expedia, Viator, GadtTravel and Klook are several legit booking Vietnam solo travel websites that single travellers can refer to.
Why choose GadtTravel? GadtTravel is proudly recognized as being a fully licensed international inbound tour operator (No. 01-979/2017/TCDL-GPLHQT) by the Vietnam National Administration of Tourism.
Unlike other OTAs, GadtTravel will directly operate the tour via any intermediary. This is one of the considerable reasons why single travellers should choose us since we always have a dedicated travel consultant team to enthusiastically support your Vietnam trip, quickly handle problems and answer all the questions you have… With many years of working experience and knowledge of tourist destinations, the GadtTravel team will help you design a suitable Vietnam solo travel schedule based on your demand.
Additionally, on each destination, GadtTravel has made 2-5 quality tours, including almost service payment, so customers will not pay any additional fee and be hesitant while choosing an appropriate one.
We believe that "Quality over Price" is always the sustainable choice, consequently, our operation team always monitors your Vietnam solo travel itinerary to ensure that solo tourists have a valuable experience while travelling alone in Vietnam.
Currently, GadtTravel offers two package tours that are appropriate for solo travellers:
Vietnam Tour Package By Group
Joining this Vietnam tour package is a big chance for solo travel beginners to save money and make new friends. However, since these are tour groups for single travellers, you have to follow our set schedule.
Note: The meeting point of Gadt's group tour will be in the city centre. Therefore, to save travel costs, we suggest solo tourists book hotels surrounding this area for more convenience.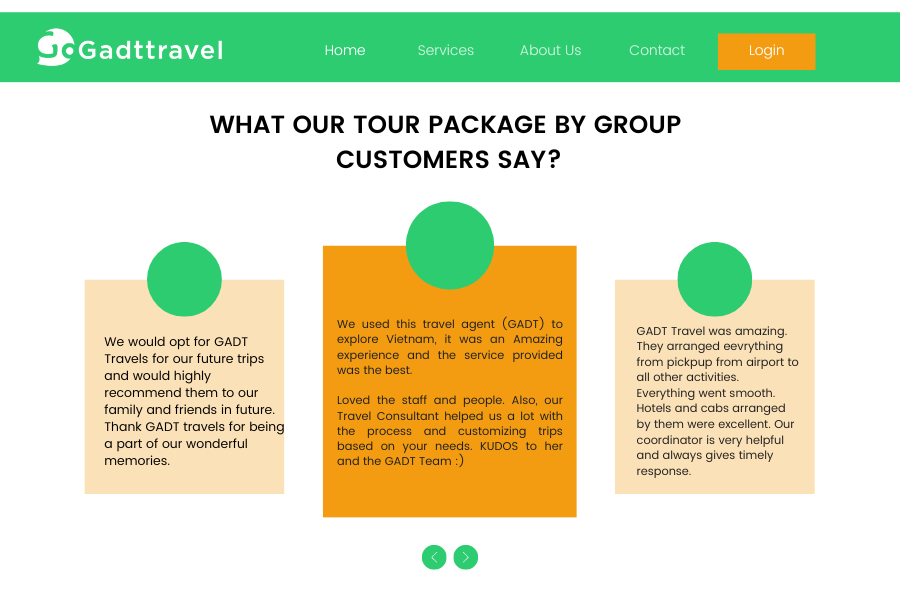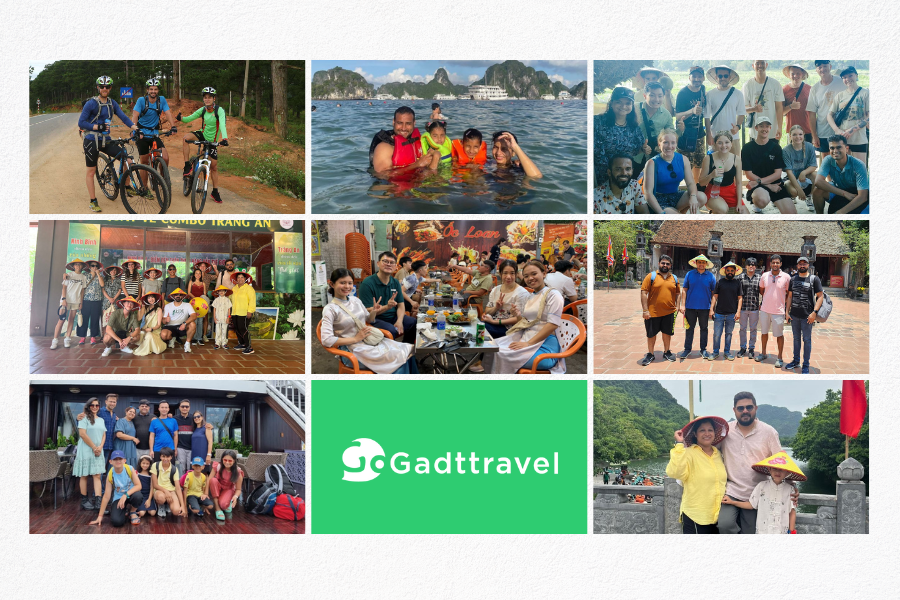 Tour Packages for Solo Tourists
This solo trip package is a good choice if you may want to customize a Vietnam day tour that allows you to explore the country at your own pace. Our tour includes visits to Vietnam's most famous cities such as Hanoi, Ho Chi Minh, and Hoi An, as well as excursions to some of the country's most beautiful natural landscapes.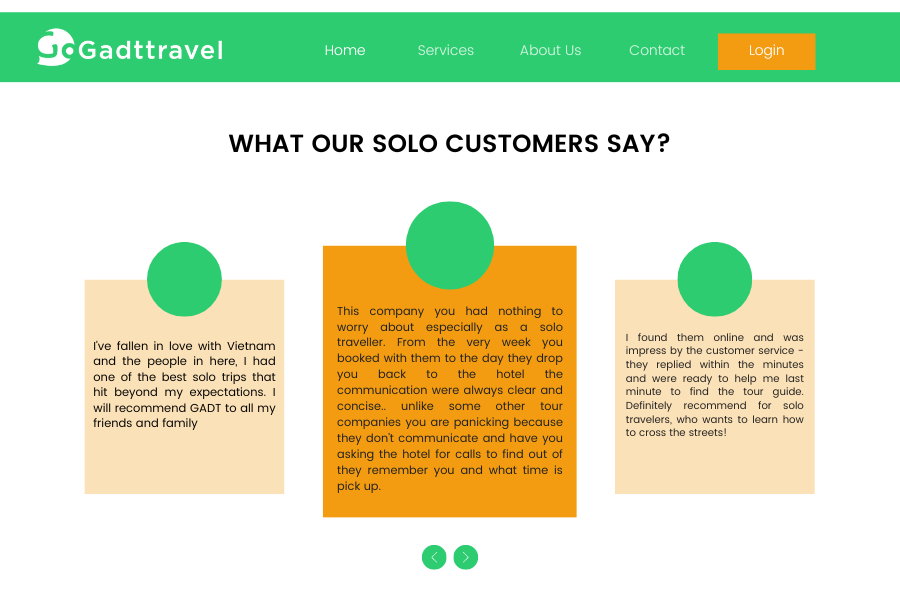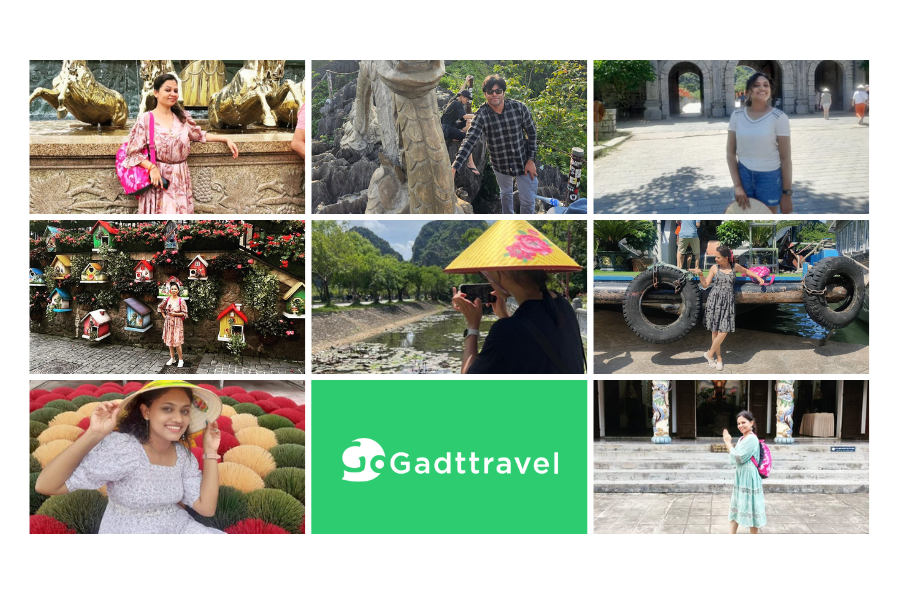 4. A step-by-step guide for first-time solo travellers to book tours on the GadtTravel website
Gadt Travel is a reliable and user-friendly travel platform to explore new destinations. Follow these simple steps to book your perfect and appropriate tour on our website
Step 1: Search for your desired tour based on destination and travel dates.
Step 2: Review the tour details
Please carefully notice the tour description, including itinerary, highlight activities, includes – excludes and pricing.
Note: The solo tour packages' price shown on our website is for an adult. For the children's policy, please carefully read our Terms & Conditions to estimate the total. Or basically, you can click on our "BOOK NOW" page, choose the number of travellers and there will be the total price for you.
Step 3: Click "Book Tour" and follow the instructions to complete the booking process.
All services on our website are pre-paid. You can pay by credit card such as Visa, Master Card, or JSC through the Onepay payment gateway.
Step 4: Make the payment, and once confirmed, you'll receive your details via email.
For more details, please watch this video: Reels
Conclusion
In this article, we present a detailed step-by-step guide for first-time solo tourists, providing invaluable insights and tips to ensure an exceptional and well-prepared experience for your Vietnam solo travel. Travelling alone in Vietnam can be an immensely rewarding and empowering endeavour, brimming with opportunities to discover yourself and the world around you. Embrace the exhilarating sense of adventure that comes with exploring new horizons, courageously step beyond the boundaries of your comfort zone, and wholeheartedly savour every precious moment of your transformative journey!