Hanoi is the capital of Vietnam, an urban city with a mixture of West and East cultures. We will welcome you with a hustling and bustling lifestyle, diversity in cuisine, and a thick layer of culture, history, and hospitality. From the remained French buildings, street vendors, and local specialties, Hanoi sure will leave an unforgettable image in tourists' hearts.
What you can find roaming around the small streets and lanes of this city will not only surprise you but also make you cherish it. If you're looking for a friendly guide on things to do in Hanoi then this's the article for you.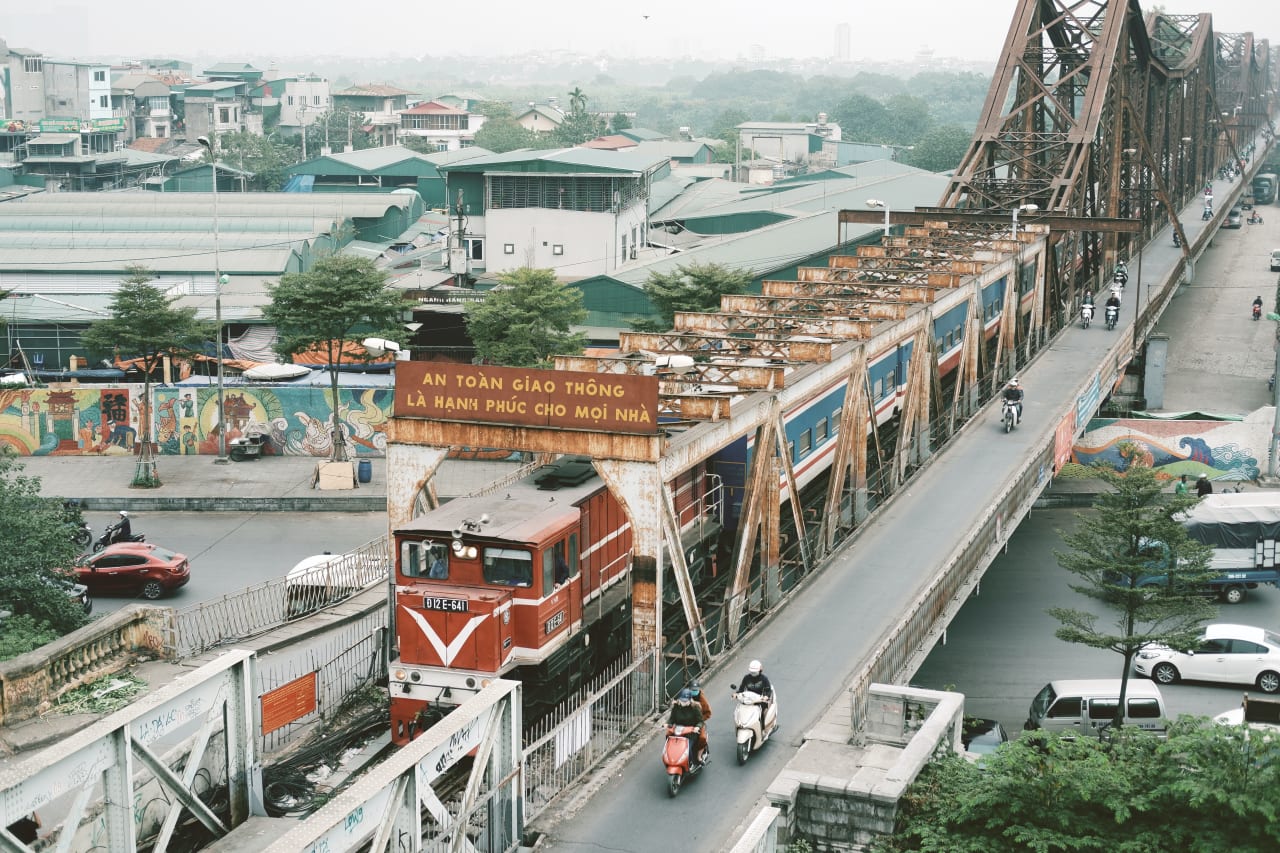 1. How To Move
Airplanes are definitely the choice for which foreign tourists. Noi Bai International Airport is about 30 km from the city center. Most travelers will choose cars to move into the city as they're convenient, and comfortable, and the cost is not too expensive. Also, if you want to save more money you can choose a bus or motorbike taxi. However, if you have luggage and follow a large group, it's not convenient at all.
You can also refer to the airport transfer service at a reasonable cost and the best service from GoAsiaDayTrip.
If you are moving to Hanoi from other cities in Vietnam, you can choose trains or coaches to save money.
For transportation in the city, you can go by taxi, motorbike taxi, and bus. However, if you want to experience the most fun, most authentic scenery and people here, GoAsiaDayTrip suggests you rent a motorbike. The cost for one day rental in Hanoi is quite cheap, only about 50 to 200 thousand VND, depending on the types of vehicles.
2. Where To Stay In Hanoi?
There's a wide range of accommodations you can choose from in Hanoi. Old quarters hotels are the best choice if you want to stay near the city center which is good for walking to places to visit in Hanoi.
Other than that, hotels around West Lake are also a great choice if you want something more private and peaceful. Here's a list of accommodations ranging from budget-friendly to high-end, we hope this would help give you an idea for your stay in Hanoi.
Budget
Blue Hanoi Inn Legend Hotel – 12B Chan Cam
Midrange
Hanoian Central Hotel & Spa – 42A Hang Cot
Splendid Hotel and Spa – 6 Hang Manh lane
Flower Garden Hotel – 46 Nguyen Truong To
La Casa Hotel – 17 Pham Dinh Ho
Luxury
Elegant Suites Westlake – 10b Dang Thai Mai
InterContinental Hanoi Westlake – 05 Tu Hoa
Hilton Hanoi Hotel – 1 Le Thanh Tong

3. Things To Taste In Hanoi – Places to visit in Hanoi
The first thing to do in Hanoi is to taste the famous foods
Pho Bo (Beef Noodles Soup)
Pho Bo is a must-try signature dish of Hanoi. With beef broth braised in hours creating an aromatic smell, slices of beef, rice noodles, and plenty of fresh herbs, you will not be able to contain your stomach growling from this flavorful dish. Make sure to try Pho in these locations since it has always been a to-die-for dish for both tourists and locals. Hence, tasting Pho should be at the top of the things to do in Hanoi.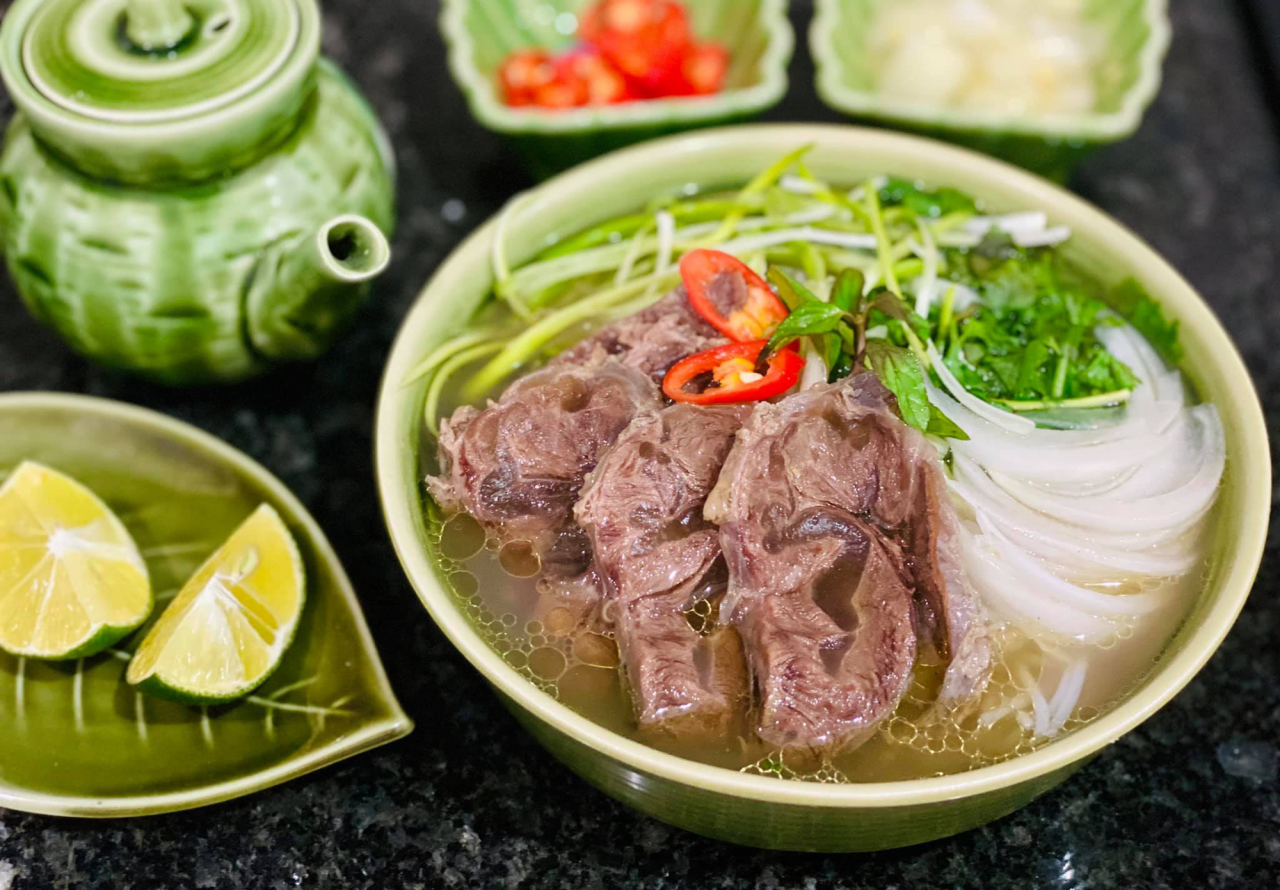 Pho Gia Truyen: 49 Bat Dan
Price: 40.000 – 50.000 VND
Open time: 6:00 – 10:00 & 18:00 – 20:30

Pho 10 Ly Quoc Su: 10 Ly Quoc Su
Price: 70.000 – 100.00 VND
Open time: 6:00 – 21:00
Pho Suong: 24 Ngo Trung Yen, Dinh Liet
Price: 55.000 VND min
Open time: 5:30 – 11:00 & 16:30 – 21:30
Pho Cuong: 23 Hang Muoi
Price: 25.000 – 35.000 VND
Open time: 6:30 đến 22:00
Bun cha (Vermicelli Noodle with Grilled Pork)
Recently, bun cha proudly made it to the British Queen's Platinum Jubilee Cookbook. It's also the dish that president Obama fell in love with when he came to Hanoi. Understandably so as this is one of the most flavorful and outstanding dishes of Vietnamese cuisine. It is served with grilled fatty pork meat over a plate of white rice noodles and herbs with a dipping fish sauce side dish.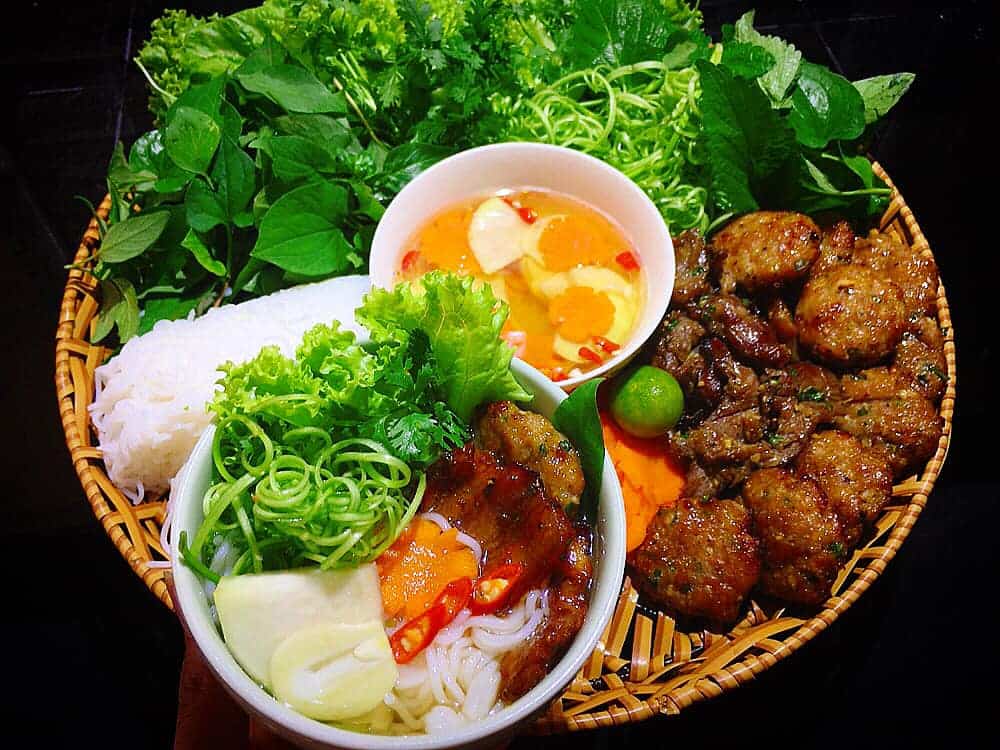 Bun cha Sinh Tu
Address: 316 Vong Street
Open time: 6h30 – 21h30
Price: 20.000 – 40.000 VND
Bun cha Huong Lien
Address: 24 Le Van Huu
Open time: 10h – 19h
Price: 20.000 – 40.000 VND
Bun cha Hang Quat
Address: Lane 74, Hang Quat Street
Open time: 10:00 – 14:00
Price: 25.000 – 40.000 VND
Cha Ca Ha Noi (Tumeric fish with dill)
This dish comprises grilled catfish that will be served with dill in a sizzling pan. It all started at 14 Cha Ca street in the 1871 when Doan family usually cook this delicious dish for their customers. After that, they opened a shop to share the flavor of fish specialty with everyone. If you have a chance to have a trip to Hanoi, try out this traditional dish and see if it suits your taste. We recommend you put this in your "things to do in Hanoi" list.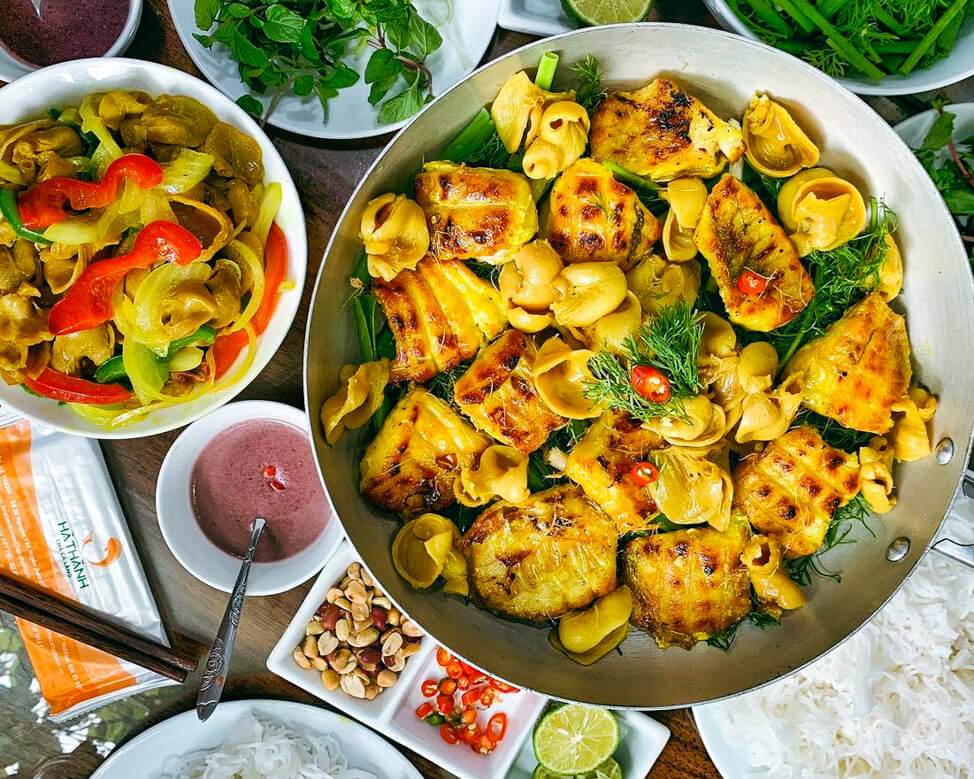 Cha Ca Ha Thanh
Address: 20 Nguyễn Van Huyen
Giờ mở cửa: 10:00 – 21:30
Giá tham khảo: 180.000 – 250.000 VND
Cha Ca La Vong
Adress: 14 Cha Ca
Open time: 11:00 – 14:00 & 17:00 – 21:00
Price: 350.000 VND
Thang Long – Cha ca la vong
Address: 19-21-2D Duong Thanh
Open time: 10:30 – 13:30 và 17:30 – 20:30
Price: 150.000 – 170.000 VND
Banh mi
Banh mi is a Vietnamese sandwich with different fillings that you can eat on the go. The fun part about it is that there are many fillings options for you to choose from and you can customize it to your liking. Often time, banh mi is stuffed only when you order it so the bread is always gonna be hot and crunchy.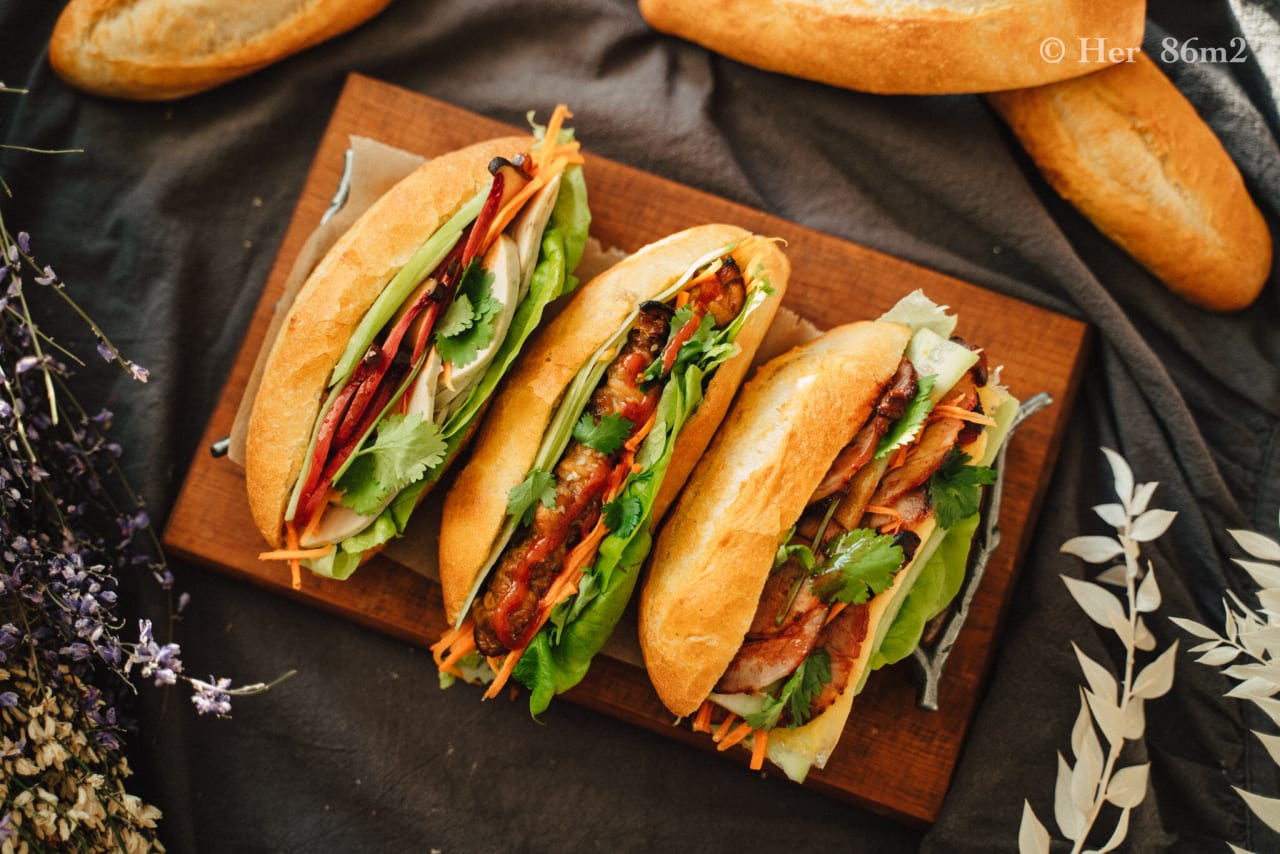 Banh mi pate Lan Ong
Address: Số 8 Cha Ca, 43 Hang Dieu, 3 Hang Bong
Price: 15.000 – 35.000 VND
Banh mi pho co
Address: 38 Dinh Liet
Price: 20.000đ – 25.000 VND
Banh mi Pho
Address: 61E Hang Ma, 39 Hang Bai, 57C Dinh Tien Hoang,…
Price: 25.000 – 40.000 VND

Trang Tien ice cream
Price: 12.000 – 15.000 VND
Trang Tien ice cream is a childhood treat of many Vietnamese and its flavor can suit the taste of different age groups. That is why the ice cream stores on Trang Tien street are always packed with people.
Furthermore, the price for one cone is cheap so you can try out all the flavors without worrying about your budget. If you want to have a taste of the nostalgic Hanoi then definitely go for it.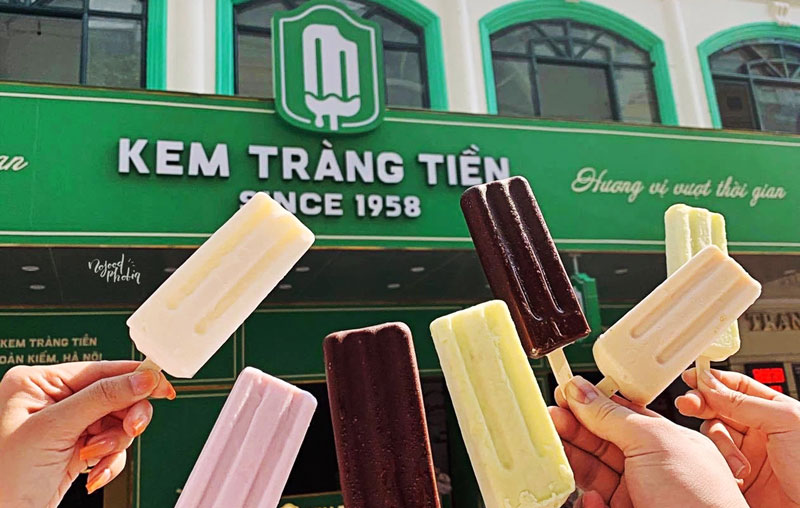 Egg coffee
Price: 25.000 – 50.000 VND
Drinking egg coffee is among the to-do activities in Hanoi. The perfect combination of the aromatic strong coffee and creamy fluffy beaten egg yolk can surely arouse your tastebud. In contrast, if you're not a fan of coffee, there's also an option for egg cocoa whose flavor is on par with the coffee version.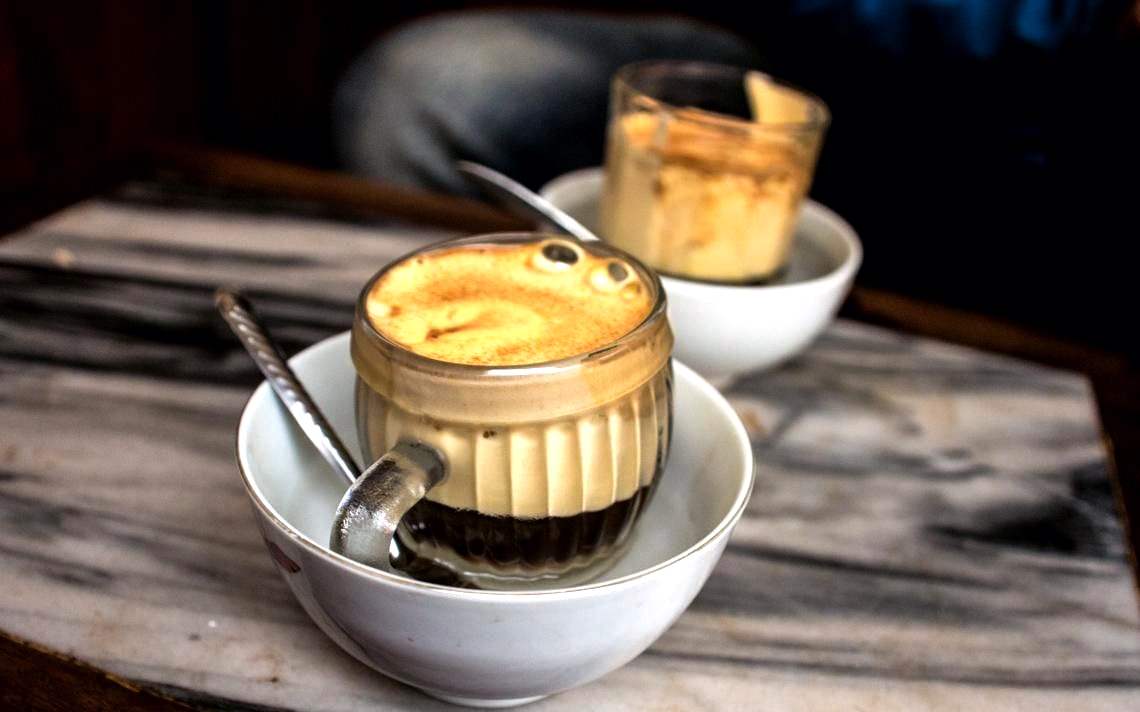 Places to drink Egg coffee in Hanoi:

Cafe Giang
Address: 39 Nguyen Huu Huan
Café Dinh
Address: 13 Dinh Tien Hoang
Cafe Yen
Address: 184 Quan Thanh

Some wild recommendations – Fun things to do in Hanoi
If you're someone who is up for a challenge and would like to go adventurous with your food then feels free to take a look at these famous dishes among Vietnamese. In fact, you will either totally regret it or NOT at all by putting these foods on your "things to do in Hanoi" list.
Bun dau mam tom (Rice noodles with fermented shrimp paste)
Braze yourself for one of the most hardcore things to do in Hanoi which is eating shrimp paste. It's quite smelly if you take a sniff but once you taste it, you gonna either bash it or end up loving the taste. So, you should give it a try.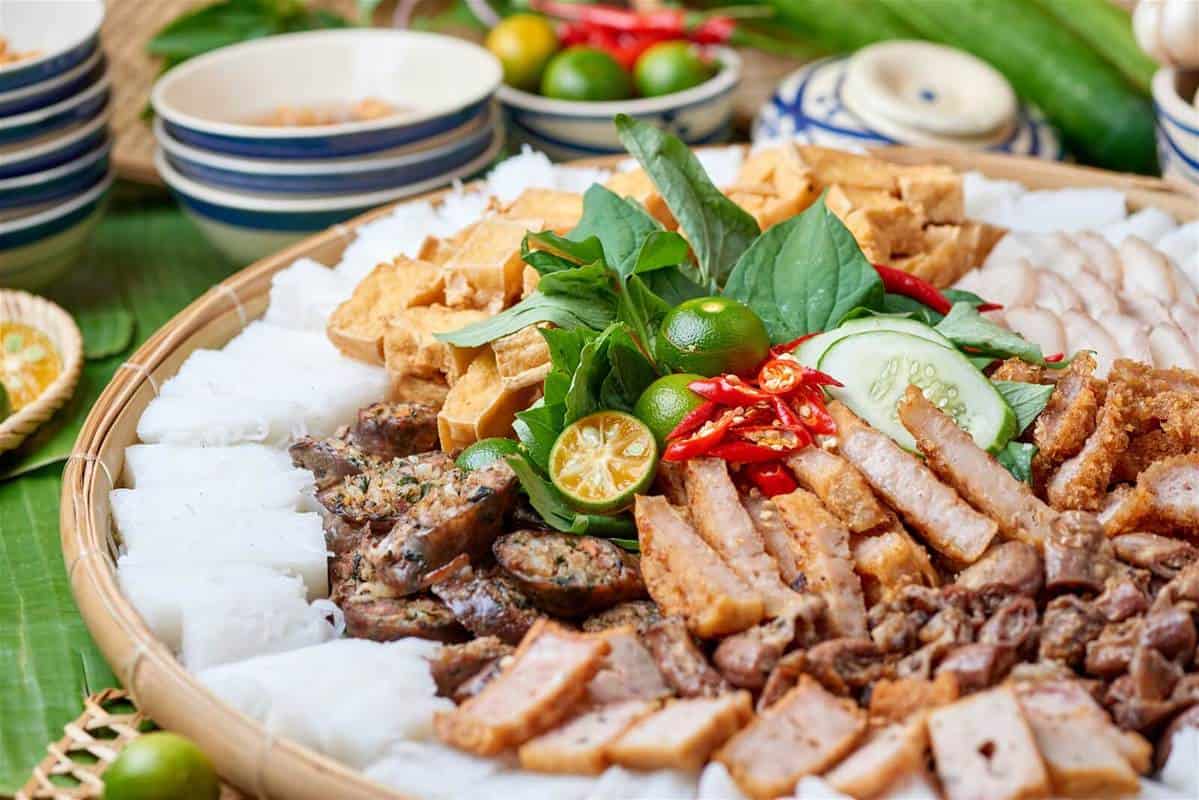 Bun dau mam tom Hang Khay
Address: 31 Lane 29 Hang Khay
Open time: 07h00 – 21h00
Price: 30.000 – 200.000 VND
Bun dau mam tom Ma May
Address: 8 Ma May
Open time: 07h00 – 18h00
Price: 15.000 – 50.000 VND
Bun dau Dong Thai
Address: 11 Dong Thai
Open time: 11:00 – 14:00
Price: 30.000 – 50.000 VND

Trung vit lon (Fertilized duck egg)
This is not a whole meal but just a supper for Vietnamese people. Because of that, you can find trung vit lon in any local market in Hanoi or ask local people you know about places that sell this exotic food.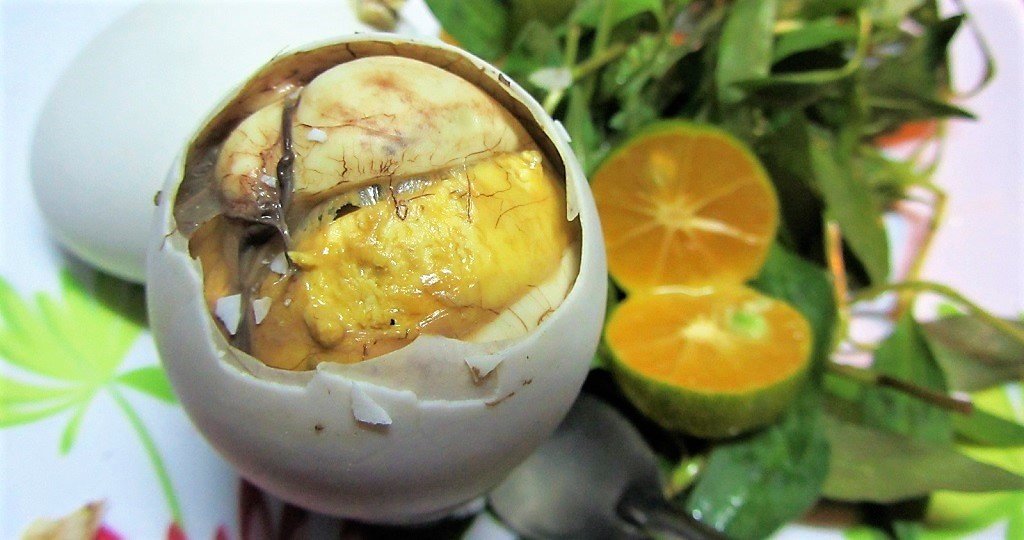 Other than the foods mentioned above, you can also enjoy the bustling train streets of Hanoi while munching on the flavorful street foods of Hanoi. Discover all there is to the cuisines of Hanoi with our Hanoi street food with drinking beside train street.
4. Places To See In Hanoi – Hanoi tourist spots
Hoan Kiem lake – Hanoi must see
Hoan Kiem lake is also known as "Lake of the Returned Sword" or "Sword lake"
The name comes from a legend in which Emperor Le Loi was given a magical sword by the gods, which he used to chase out the invaders.
After that, while boating on the lake, he encountered a giant turtle asking for the sword's return. Then, it carried the sword down to the depth of the lake.
While walking around the lake, you can visit Jade Island temple – an 18th-century Chinese-style temple on Jade Island. The island is reachable via a wooden red-painted and picturesque The Huc Bridge (Morning Sunlight Bridge).
You should try taking a refreshing early morning walk around Hoan Kiem lake – a peaceful Hanoi attraction to see how the daily life of local people.
See more corners of Hanoi with Top 7 places to visit in Hanoi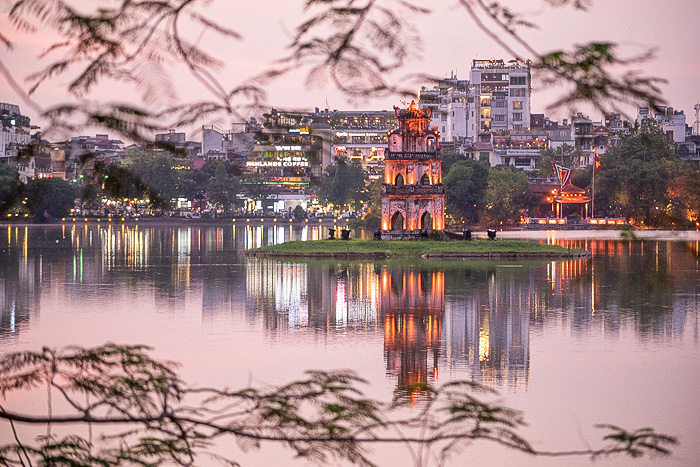 Hanoi's Old Quarter – Top Hanoi attractions
Hanoi's Old Quarter also called Hanoi 36 streets is a mixture of old and new as old brick buildings stand bumper to bumper. These streets are filled with the noises of modern motorbikes and street vendors. It's the center of many of Hanoi's attractions from street market, and water puppet show to temples.
The popular trait of the Old Quarter is each street is named after a trade or guild as in the old days, craftsmen from villages used to gather around here to sell their merchants like wood, silver or paper. These days, some of the streets still stick with selling their original trade products as the names of the street from the past. In conclusion, there're many things to do in Hanoi Old Quarter so explore it for yourself to have the best time with family and friends.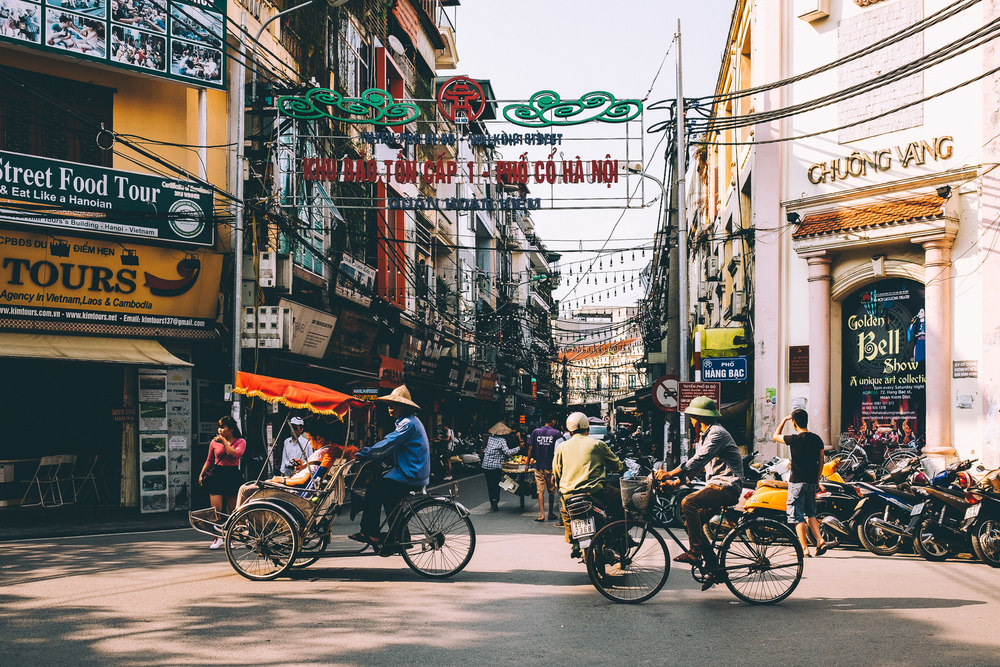 Ho Chi Minh Mausoleum
Ho Chi Minh Mausoleum can be said that this is one of the most attractive tourist attractions in Hanoi. It's the resting place of Vietnamese Revolutionary leader and President Ho Chi Minh in Hanoi, Vietnam. When coming here, you should dress politely, and neatly to show respect for this place.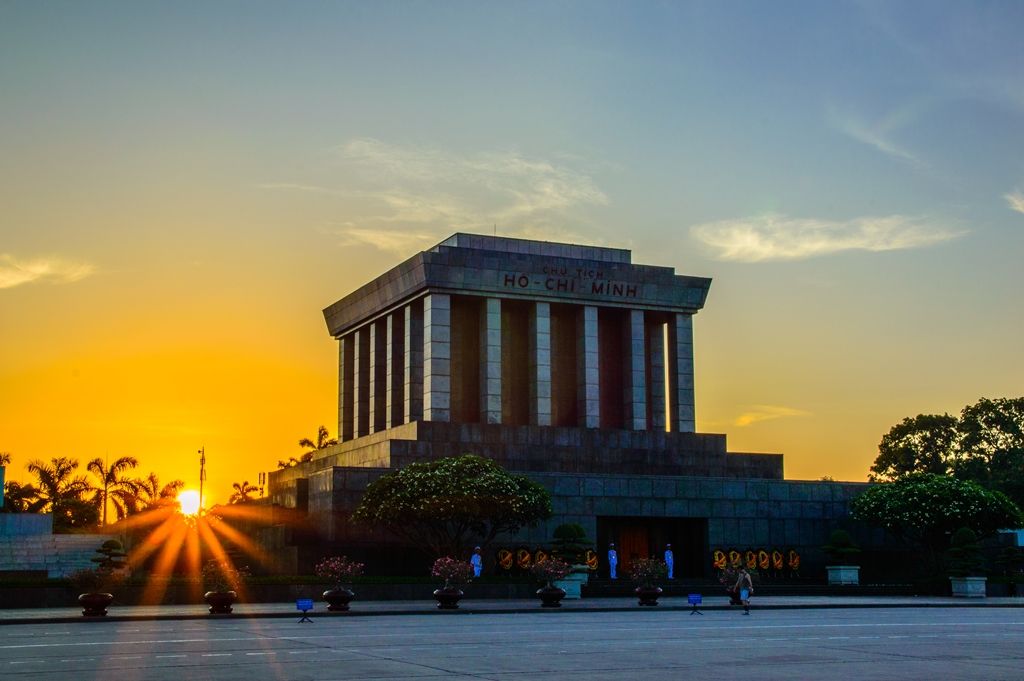 Temple of Literature
Open time:
Hot season (April 15 – October 15): 7:30 – 17:30
Cold season (October 10 đến April 14): 8:00 – 17:00
Ticket price: 30,000 VND
The Temple of Literature has Imperial Academy where royal members studied in the past. Also, this is considered the first national university in Vietnam. Get to know the education history in Vietnam by visiting this Hanoi attraction.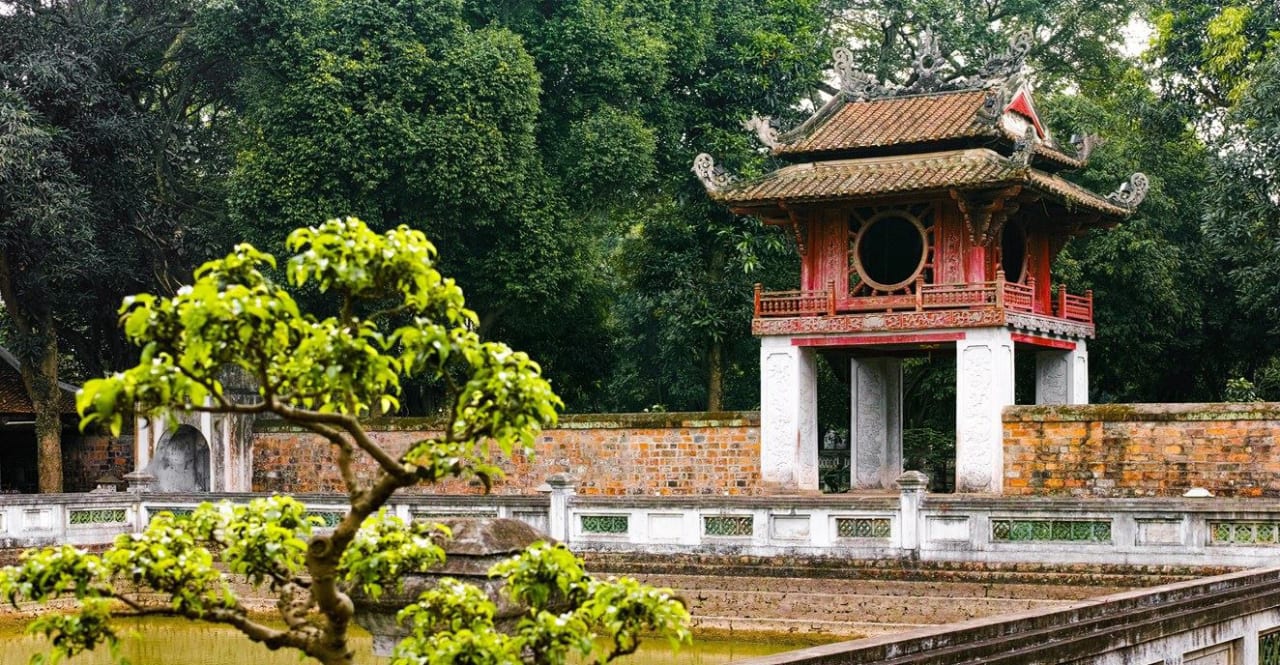 Vietnam Museum of Ethnology – Places to visit in Hanoi
Open time: 8.30 – 17.30 every day. Except for Mondays and New Year's Holiday
Ticket price: 40,000 VND
Explore the diverse ethnicity and see the variety of cultural and ethnic backgrounds or identities around Vietnam in the Vietnam Museum of Ethnology.
Completed in 1997, this museum pays respect to Vietnam's 54 ethnic groups. There's a collection of 15,000 artifacts and 42,000 photographs on display that give a quick yet thorough ethnographic tour of Vietnam. Also, a life-sized outdoor collection of traditional houses from Vietnam's most prominent ethnic groups are displayed in the garden.
Moreover, there are still many beautiful cultures that are more than what meets the eyes in the museum of ethnology. So, if you want to dive deep into the ethnicity of Vietnam and are curious to know more about it. Then, we recommend you take a trip to the North and get to know the daily life and culture of the ethnic minorities.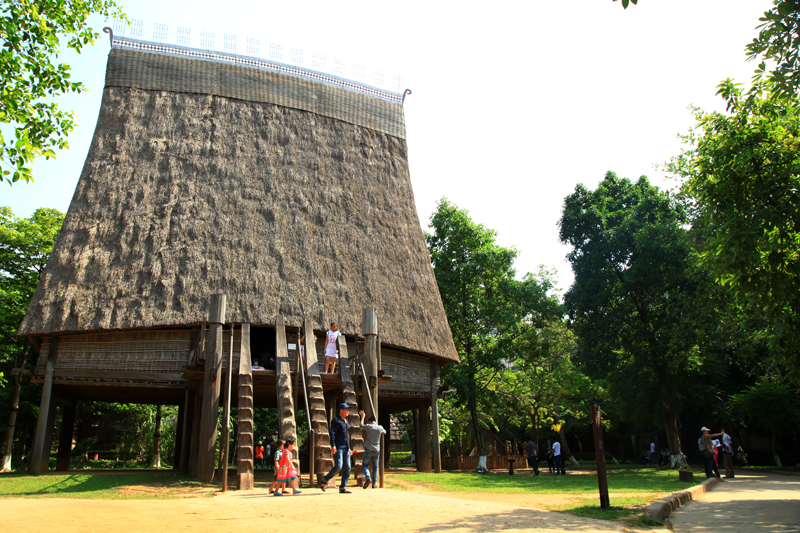 Hanoi Hilton (Hoa Lo Prison) – Places to go in Hanoi
Open time: 8:00 – 17:00
Ticket price: 30.000 VND
This thought-provoking site is what's left of the former Hoa Lo Prison, ironically nicknamed the 'Hanoi Hilton' by US prisoners in the American War.
The museum focuses on the struggle to free the country from France and it exhibits the prison's tools and remnants up to the mid-1950s.
Here, there are also displays focusing on the American pilots who were inmates in Hoa Lo during the American War. This place is among the top Hanoi tourist attractions as it gives people different emotions and perspectives on the war between two countries.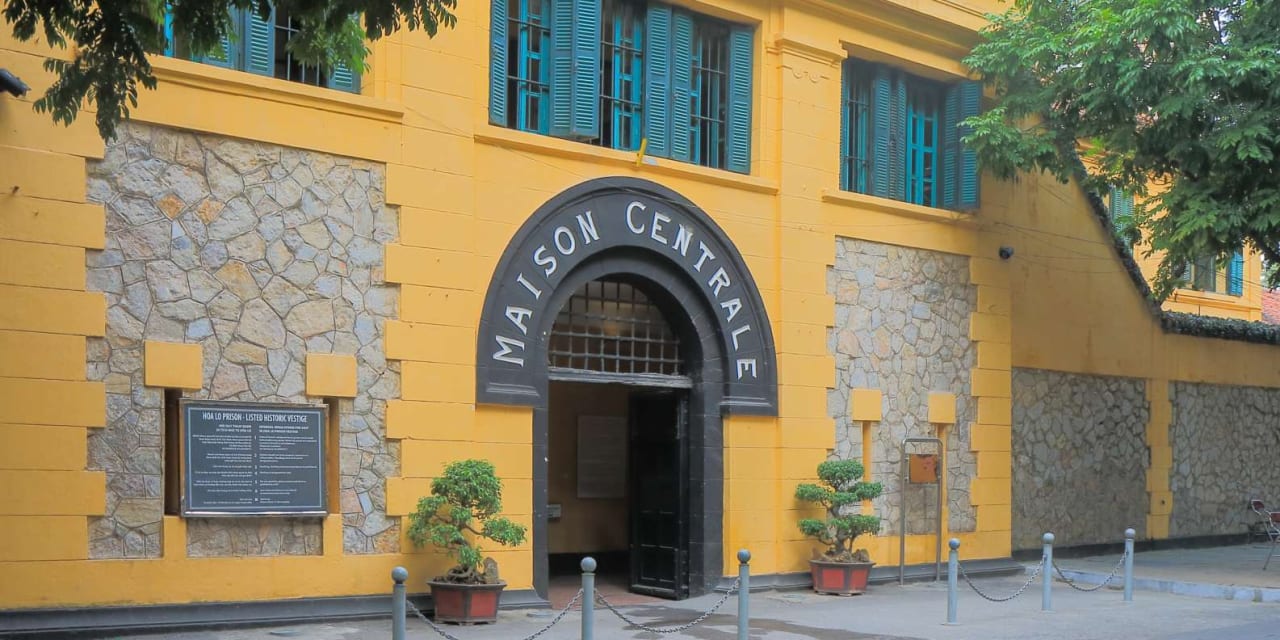 Tran Quoc Pagoda
Tran Quoc Pagoda is the oldest pagoda in Vietnam. It was built in the Ly Nam De Dynasty in 500 (before Ngo Quyen independent in 938). The pagoda not only has historical values but also has unique Buddhist architecture, which is located near West Lake.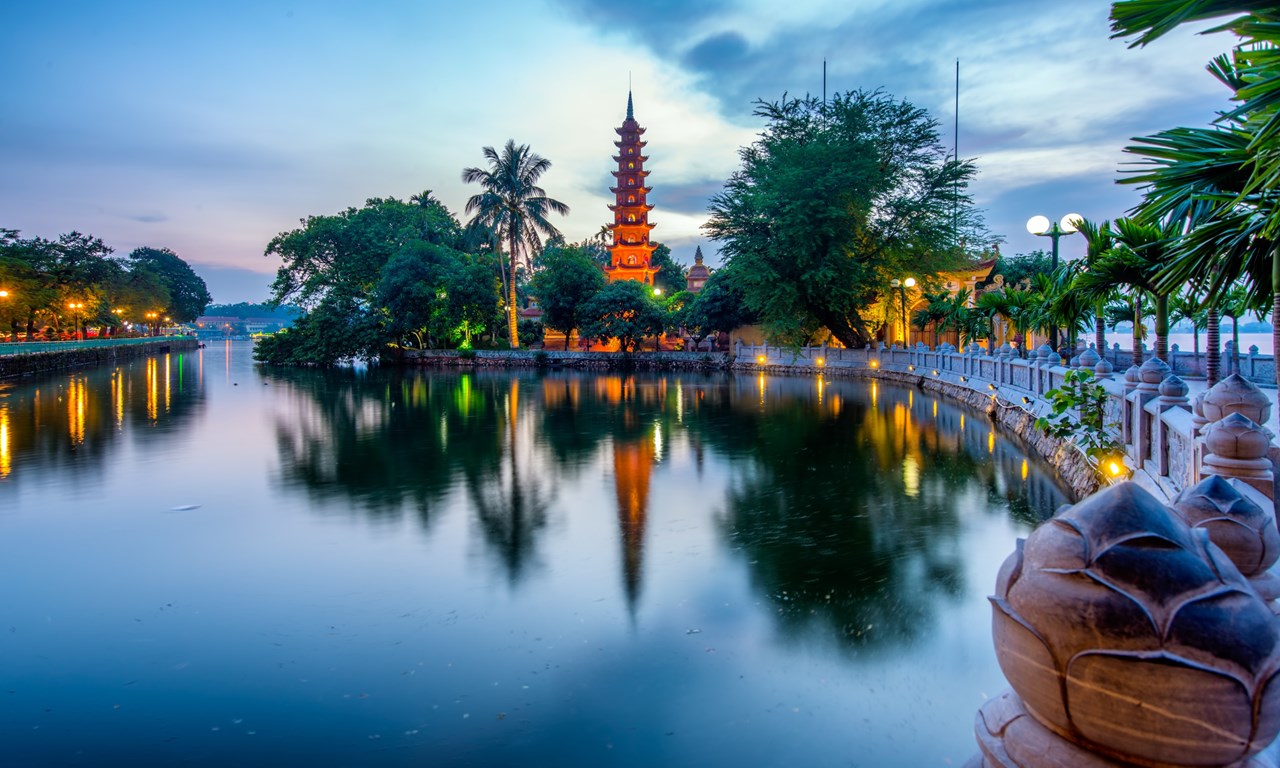 Thang Long Water Puppet Theater
Ticket price: 100.000 – 200.000 VND
This theater honors the peasant art form starting over a thousand years ago. The art form reflects the joy of the peasant's life as they cultivate, fish, rearing buffalos. Also, the shows tell mythologies of Vietnam to enhance national pride. Traditional Vietnamese instruments perform an opera to tell a story and narrate the puppet actions, and musicians will interact with puppets. Watching the water puppet show is among the must-do activities if you have a chance to visit this Hanoi attraction.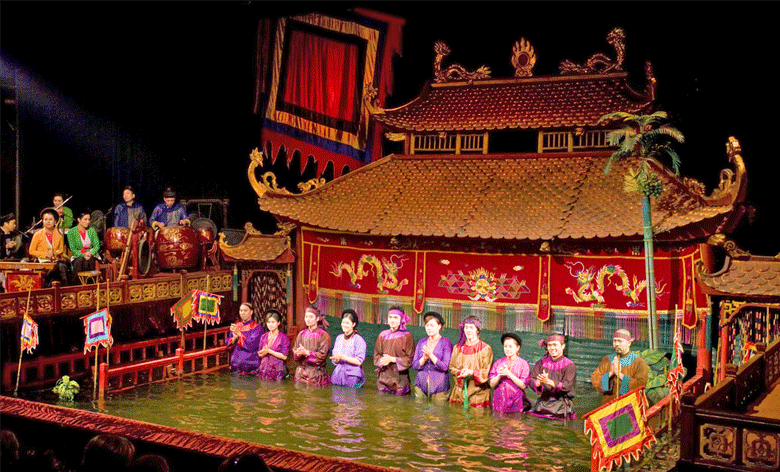 All in all, to minimize your time and effort and create the schedule for each of these destinations in Hanoi, you can leave it all to us by getting this tour to see Vietnam at a glimpse.
5. Activities you can do in Hanoi – Things to do in Hanoi
Ride A Boat in West Lake

Price: 80.000 VND/hour
West lake is the largest lake in Hanoi and is among the best places to visit in Hanoi. It takes 45 minutes to cover the whole lake by motorbike. Moreover, you can enjoy the refreshing breeze and make more memories with your family by hiring a pedalo boat. This activity in Hanoi is safe and fun for everyone, even small children.
See other fun activities to do in West lake here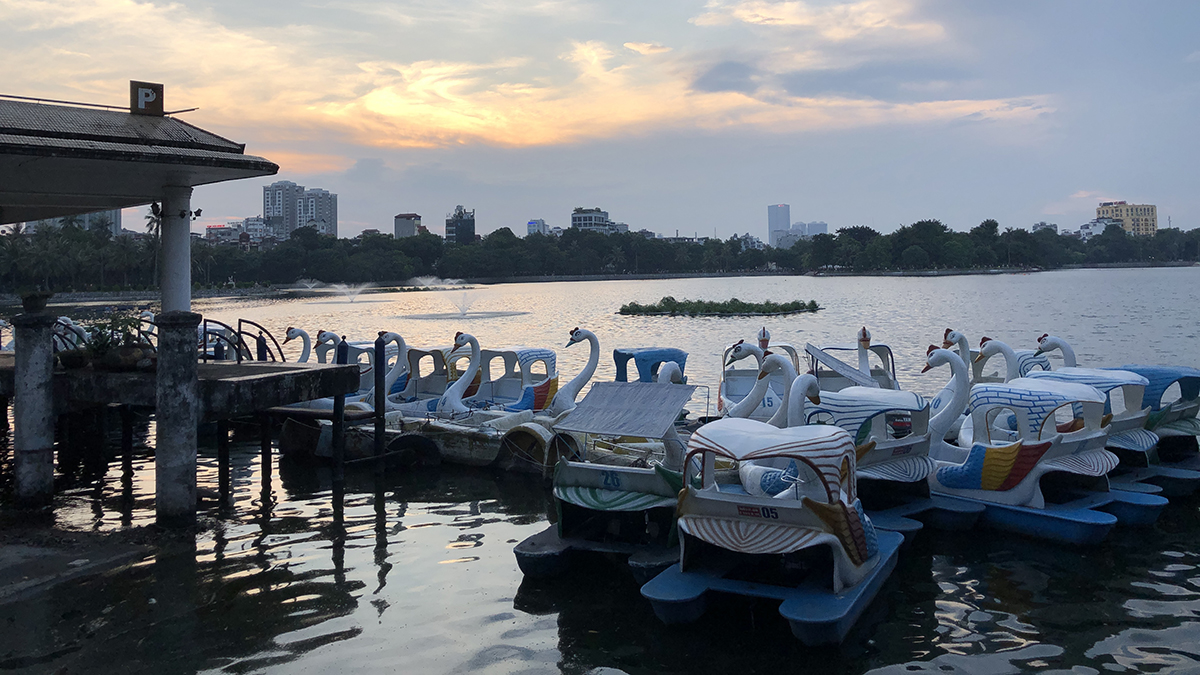 Have A Massage
Having a massage after a long day of exploring outside is truly a must for visitors. Almost all the 4 or 5-star hotels provide this kind of service to their customers. You can choose whatever types of massage you want from Vietnamese, Swedish or Thai massages to the facial mask, oil treatments, or body wraps.
Otherwise, you can find other spas around Hanoi like Anam-QT Spa Hanoi or Hanoi Serene Spa Ma May. The services here are great with diverse treatments while the locations are easy to locate.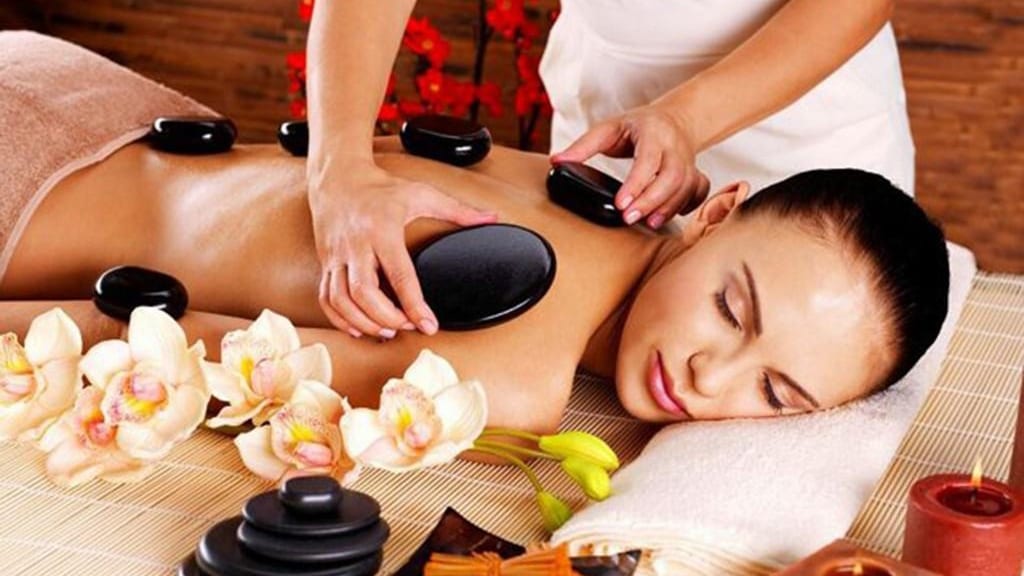 Take a cyclo tour

One of the most special things in Hanoi is the cyclo, which is hardly found in the rest of Vietnam. Take a ride on this vintage vehicle and enjoy the view of the city center at a slow and peaceful pace. Hence, don't miss the chance to take lots of photos during this one-of-a-kind Hanoi sightseeing cyclo ride.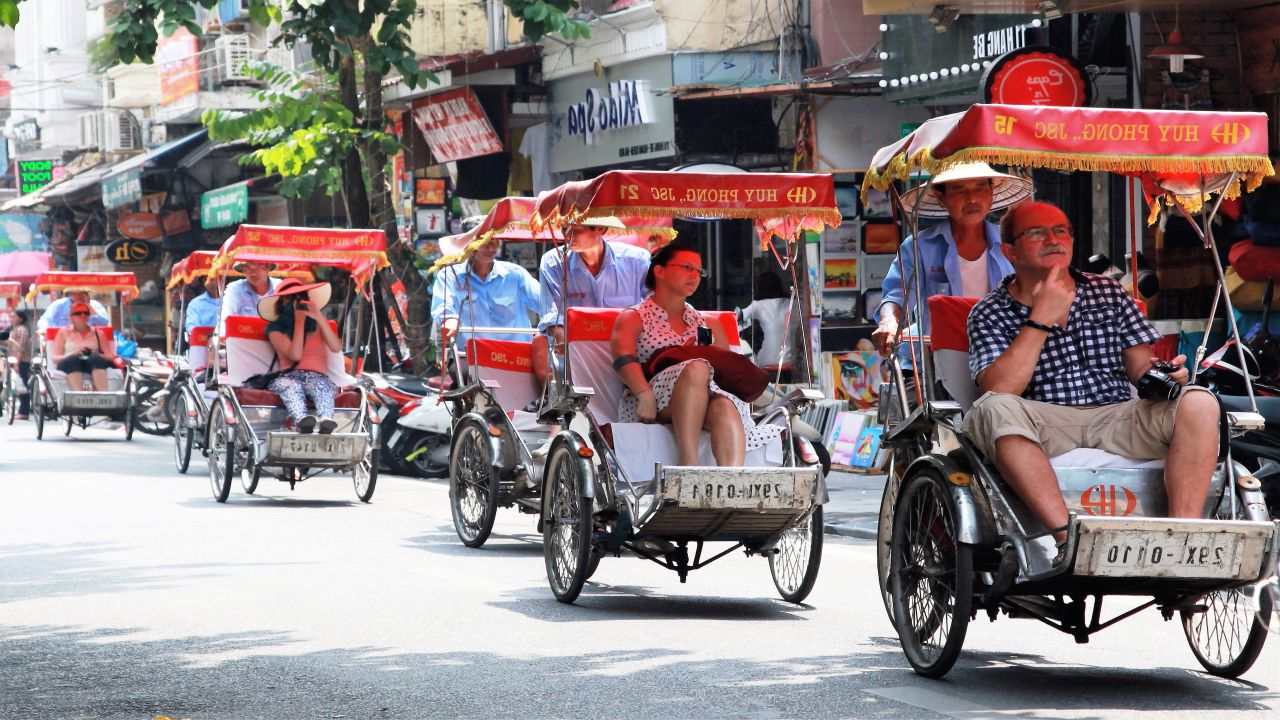 Visit Ta Hien Street to Try Some Beer – Hanoi tourist spots

Ta Hien street is usually flooded with foreigners and locals at night. It's a well-known place for enjoying beer and snacks with friends. Here, you can hear all kinds of chit-chatting noises and occasionally free live music. Vietnam is famous for its cheap beer so you can drink to your heart's content without worrying about your budget. Thus, you don't have to worry about a thing, and just drinking your beer away is one of the best things to do in Hanoi.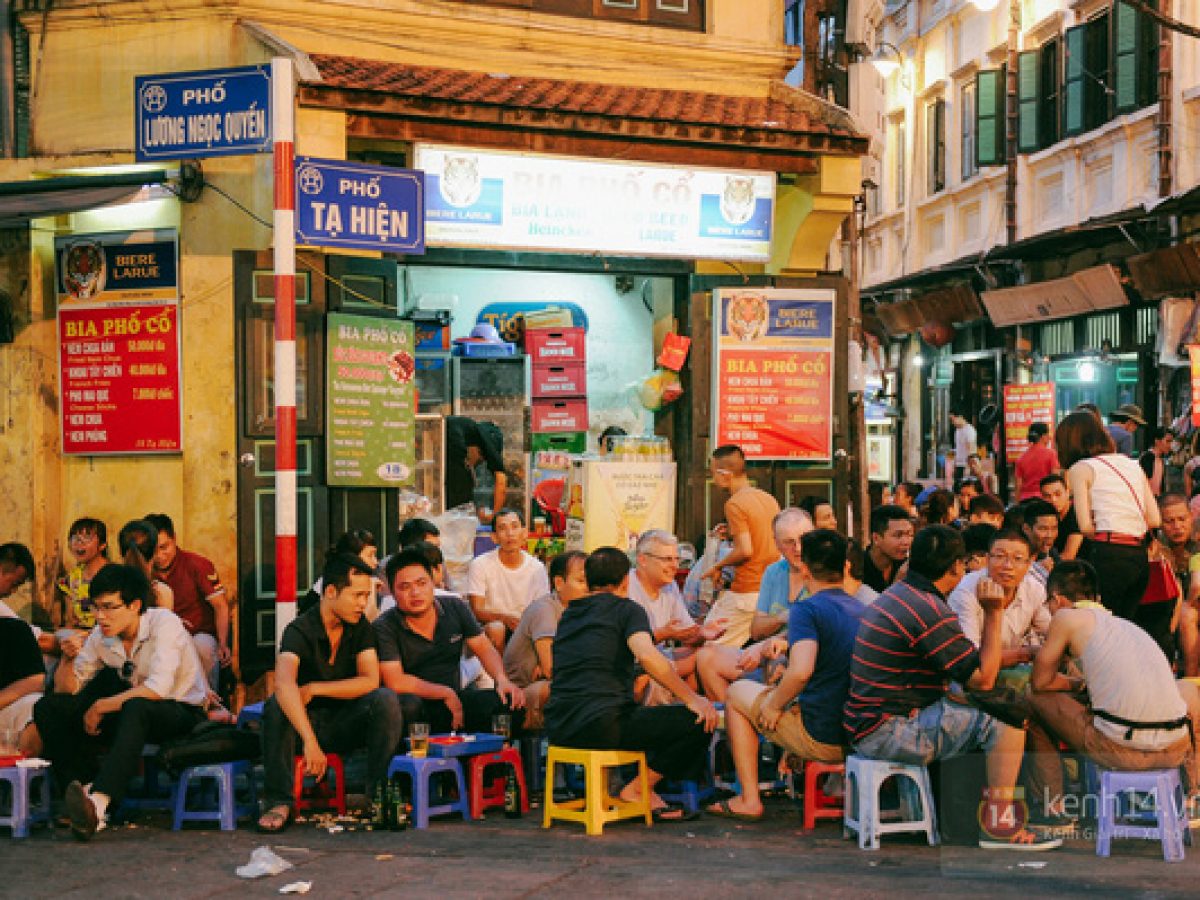 Hope with our sharing, you will find for yourself a great time to enjoy your Vietnam journey!
If you need advice on Vietnam tours and customized tours, do not hesitate to contact us:
𝑮𝒂𝒅𝒕 𝑻𝒓𝒂𝒗𝒆𝒍: 𝑻𝒓𝒂𝒗𝒆𝒍 𝒚𝒐𝒖𝒓 𝒘𝒂𝒚
🅖🅐🅓🅣 🅣🅡🅐🅥🅔🅛
☎️Hotline: +84-9-4161-8800 (WhatsApp)
💌Email: sales@gadttravel.com
🌐Website: https://gadttravel.com