Saigon or Ho Chi Minh City is known as the Pearl of the Far East, the cultural and economic center of Vietnam. Traveling to Saigon, you will admire high-rise buildings located close together, amusement parks, shopping centers … Cruises along the Saigon River by train, visit West Pham Ngu Lao Street, shopping At Ben Thanh market or back to Can Gio beach …. These are the "specialties" that you should not miss when visiting here. Therefore, these travel guide of things to do in Saigon 2018 below is absolutely helpful for you before coming there.
---
THE BEST TIME TO TRAVEL SAI GON
Unlike Hanoi, the weather in Saigon is divided into two distinct seasons: dry season and rainy season. But the sun of Saigon is not harsh; the rain does not last too long. Therefore, you can go to Saigon at any time of the year because this is a vibrant, bustling city all year round.
---
TRANSPORTATION TO SAIGON – THINGS TO DO IN SAIGON
You can go to Saigon by various means. If you are in Vietnam, you can choose trains, car (coach), planes or motorbikes depending on your starting point. But by any means, you should also ask the price then book in advance. If you come to Saigon by motorbike, bring with you license and obey traffic laws. Also carry a bottle of gas, in case out of gasoline stations.
In Saigon, you can move by many means: Taxis, motorbikes, buses, bicycles, cycloes … However, according to our travel experience Saigon 2018, you should move on foot and by buses.
– If you travel by bus, you need to find out the bus routes in Saigon and mark the routes between the destinations you want to travel. Ask the receptionist where you are for the most accurate information.
– If you move by taxi, you should choose the reputable brands like Mai Linh, Vinasun … to avoid the free cars cheat you for high prices
– If you want to ride a motorcycle, make sure you are a good driver and understand the traffic law of Vietnam. The rent is about 100.000VNĐ / day.
Or if you don't want to worry about transportation when travelling there, you can book transfer service at airport and inside city from GoAsiaDayTrip here.
---
ACCOMMODATION – THINGS TO DO IN SAIGON
There are many hotels and guest houses from standard to high-class levels in Saigon with prices ranging from 200,000 VND to several millions per room. But you should choose where near tourist spots or bus station with good security. In particular, you should ask the price and book room in advance to avoid the peak months.
You can choose the centrally located hotel on Nguyen Trai Street, Le Thanh Tong Street, Ben Thanh Market area, Pham Ngu Lao…
Here are the list of beautiful hotels in Saigon with good service and very convenient location:
Bali Boutique Hotel: 82 Bui Vien, Pham Ngu Lao Ward. The lowest room price is about $ 23 (after discount), nice interior, and enthusiastic service. This is a small, cheap hotel that is preferred by many tourists.
Halo Hotel: 23 Thu Khoa Huan Street, Ben Thanh Ward, District 1. Lowest price is $ 26 (free breakfast). Especially in the extremely convenient location, the number of guests booking at Halo Hotel is extremely large, even if the hotel is small.
Ipeace Hotel: 175/8 Pham Ngu Lao, District 1. The location is extremely convenient, furniture, service quality is very good compared to price (lowest $ 17)
Palace Hotel Saigon: 56-66 Nguyen Hue Street: This hotel has very good location and nice view overlooking Bitexco building. The lowest price is around $ 66, this hotel is the second most selected hotel in Ho Chi Minh City.
Silverland Central Hotel & Spa: 14 – 16 Le Lai, District 1. The lowest price is around $ 56 – $ 60. This hotel ranks among the most popular hotels in Saigon.
Hotel Majestic Saigon No. 01 Dong Khoi, District 1: 5-star hotel with ultra-classic style. The lowest price is around $ 123.
---
ATTRACTIONS – THINGS TO DO IN SAIGON
Main areas of Saigon tourism:
On the Saigon River
Saigon Notre-Dame Basilica
Nguyen Hue Street – District 1
Ben Thanh market
Western Town
The famous tourist attractions in Saigon should not be overlooked as:
Thong Nhat Hall (Independence Palace)
Address: 135 Nam Ky Khoi Nghia Street, Ben Nghe Ward, District 1
Opening hours: 7:30 am – 11:00 am, from 13h00 to 16h00 (daily)
Fare: Adults: VND 30,000 VND / person / time, delegates with group from 20 persons will receive a third promotion.
It is designed in oriental architecture, modern. You will admire the inscription of the moment of independence of the nation on 30-4-1975.
Notre Dame Cathedral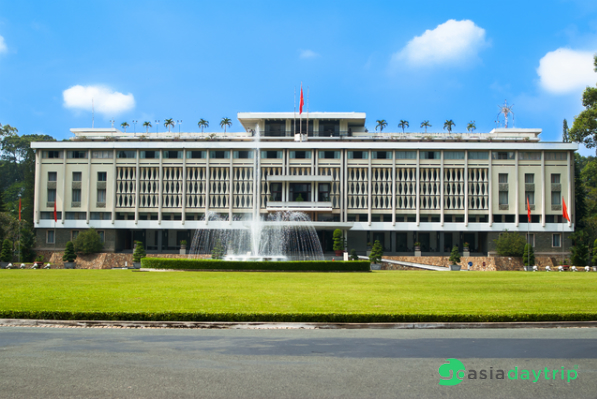 Address: No. 1, Paris Commune, Ben Nghe Ward, District 1.
Opening hours: Visit: Morning 8h30 – 10h00, 14h30 – 15h30 (Mon – Fri)
Time of the Mass: 5:30 am, 5:00 pm (T2 – T7), Sunday: 5:30 pm, 6:30 pm, 7:30 pm, 9:30 pm (for foreigners), 16h00, 17h00, 18h30
Notre Dame Cathedral is the symbol of Saigon. The church is designed with European architecture along with beautiful Roman and Gothic style, which owns the largest bell in Vietnam.
Ben Thanh market
Address: Located between streets of Phan Boi Chau – Phan Chu Trinh – Le Thanh Ton – Quach Thi Trang, Ben Thanh Ward – District 1.
Opening hours: 7am – 7pm daily
The shop sells all kinds of traditional and modern items that can be gifts to friends and relatives. Especially, at night around the market become bustling with the eateries, clothing stores…
In addition, you can also discover some popular attractions are located in the suburbs of Saigon and neighboring provinces.
Cu Chi Tunnels: Cu Chi Tunnels are located in Phu Hiep Hamlet, Phu My Hung Commune, Cu Chi District. Get there: Take bus number 4 from Ben Thanh to An Suong station. Then continue to take bus number 122 from An Suong Bus Station to An Nhon Wes.
Mekong Delta: This is also one of the most popular tourist destinations for foreigners in Saigon. With a tour of the day, you will experience the beauty of the Western land, visit the busiest market in Vietnam or explore the beautiful mangrove forests.
Refer some day tours in Saigon here.
---
SAIGON CUISINE – THINGS TO DO IN SAIGON
Enjoy food is always one the top list of things to do in Saigon for tourists. This is a place where the population is very crowded in the South. Therefore, Saigon cuisine is very rich, with typical dishes of the South or imported areas in the country. Here are the famous dishes in Saigon that you should not miss:
Broken rice
A fairly typical dish from Saigon was broken rice dishes, if you skip this dish, it's a pity. The rice is cooked from grains (rice seed head), usually served with grilled pork (either ribs or shredded) plus the Vietnamese dish bì (thinly shredded pork mixed with cooked and thinly shredded pork skin) over broken rice.
Bread
In Saigon, just each road segment, you will find a place to sell bread. This seems to have become an indispensable and extremely convenient dish. Whether it's a famous restaurant or simply a simple trolley of vendors, bread is still one of Saigon's top choices.
The "giant" bread Huynh Hoa (District 1) with crowded queues or bread rolls (alley 150 Nguyen Trai, District 1) eating with sweet and sour fish sauce or Tieu Bread (District 5) are the popular restaurants with the Saigon people.
Snail
Although not a coastal city, but reminded of dishes from snails, people think again to Saigon. When you first arrive at an eatery, make sure you are overwhelmed with over 20 types of snails that each has different types of processing.
Hu Tieu- Rice noodles (Noodle with seasoned and saute' beef)
Noodle soup is also one of Saigon's best dishes besides broken rice or bread. Unlike Pho or other noodle, Hủ tiếu is quite small, tough and crispy.
---
SHOPPING – THINGS TO DO IN SAIGON
The famous shopping address, cheap in Saigon you can refer to:
Ben Thanh market
SaiGon Square 1 & 2 Taka Plaza
Binh Tay Market
Diamond Plaza, Parkson, Vincom, Saigon Center …
Shopping experience in Saigon: Saigon people are very friendly and enthusiastic, you can ask for help when asking any product. Do not be afraid to bargain for any item. Also, find out in advance and carry the mini map when walking around.
---
THINGS TO NOTE WHEN TRAVELING TO SAIGON
When traveling, bring the necessary identification. If you come to Saigon by private means, you should bring all your documents. In addition, clothing, shoes should only bring enough for your days in Saigon. Without can buy at the market, the price is also inexpensive. Besides, medicines and some personal items are needed.
When shopping, eating, please bargain first.
When you take a taxi, keep track of the meter alarm.
Because of the weather in Saigon, it is advisable to carry umbrellas, raincoats and sun protection suits.
When picking up a bus, be careful about your personal belongings, in case of pickpockets, especially in crowded buses.
These are some tips of things to do in Saigon that GoAsiaDayTrip would like to introduce to you. Hope that you will have the very memorable trip there.