How Is The Da Nang Nightlife
Danang nightlife has unique energy after the end of the dusk. That energy usually comes from entertaining activities such as night market, night sea, bridge, marina, park, etc. Da Nang has recently been crowned the leading city in the region for events and festivities. A title earned primarily due to the incredible International Fireworks Festival. The nightclub scene may not be on the same level as some of the world's top party destinations, nonetheless Danang nightlife has lots of amazing things that are definitely worth exploring.
1. Go shopping at Helio night market
Helio is one of the most renowned night markets, besides, there are Son Tra market and Hoa Khanh market. This hotspot can satisfy all diners, ranging from tasty but low-budget food, colorful check-in spots, diverse items for shopping, and live music every night to fun and cool games that no one would miss. In addition to the food area, Helio is significantly attractive to visitors by its exciting shopping areas with lots of inexpensive and interesting accessories. In particular, Helio boasts a one-of-a-kind area for beer and grilled food that visitors are not able to find anywhere else in Danang nightlife. This area is a truly feast with impressive light décor, million kinds of brand-new beer and loads of nice grilled food. All people need to do is choose any of their favorite barbecues and enjoy the food on the main stage with live music.
Address: 2/9 Street, Hai Chau District, Da Nang City.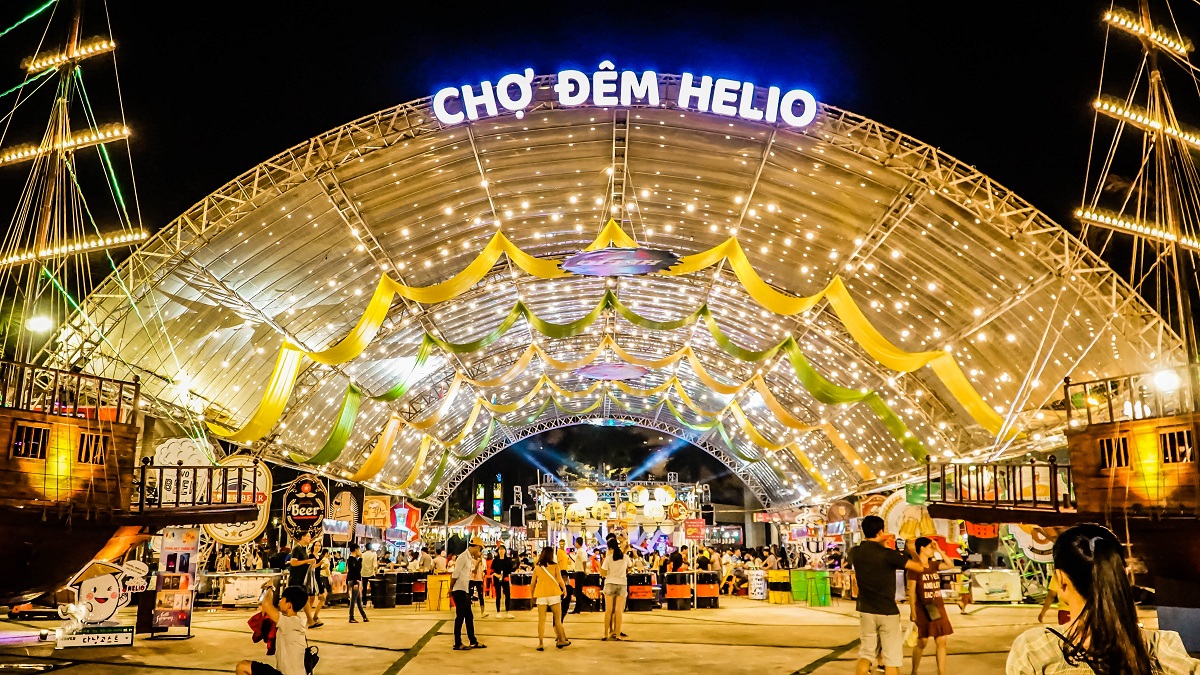 2. Watching Dragon Bridge spitting fire
The Dragon Bridge is one of the main attractions of living life in Danang night. With a height of 666 meters, it is also the longest bridge in the country. Like its name, the bridge was constructed in the shape of a golden dragon which is a significant symbol of good luck and prosperity in Vietnam. However, the thing making this bridge unique and attractive is the special display of colorful LED lights on the bridge every Saturday and Sunday at 9:00 p.m. The dragon even spits water or breathes fire from its mouth. This is definitely a breathtaking view that travelers should not miss out on while visiting Da Nang nightlife.
Address: Nguyen Van Linh Street, Hai Chau District, Da Nang City.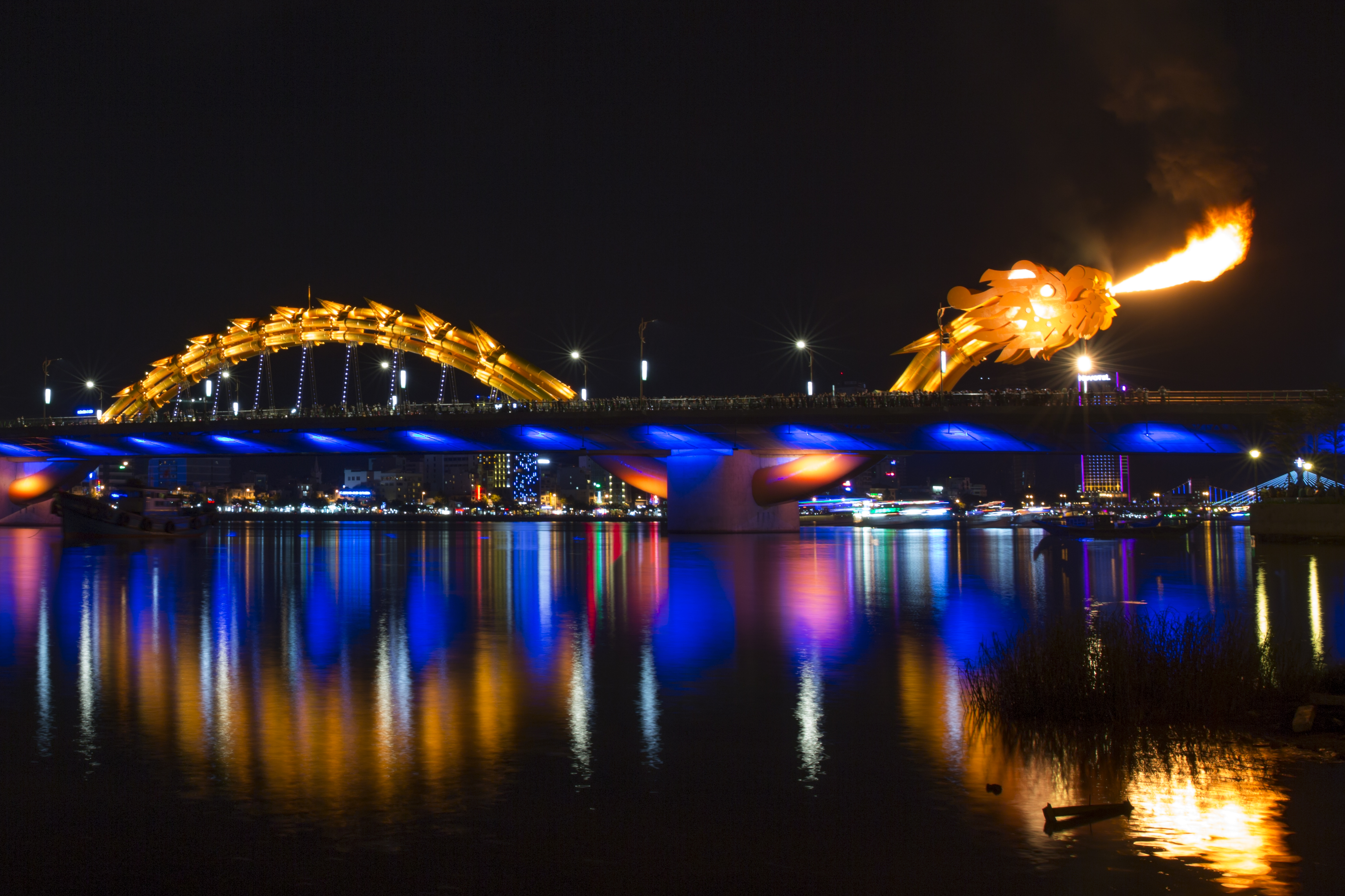 3. Admiring Swing Bridge ( Han River Bridge )
An amusing thing to see at nightlife in Da Nang city is called Swing Bridge, also known as the Han river bridge. This oldest bridge in Danang has the function of serving waterway traffic, in order to pave the way for large boats to pass through. If you want to see the scene of this special bridge, you can stop by on Saturday and Sunday from 11:00 p.m to 12:00 p.m. On weekdays, the bridge usually rotates from 1:00 a.m to 2:00 a.m.
Address: Han River Bridge, Hai Chau District, Da Nang City.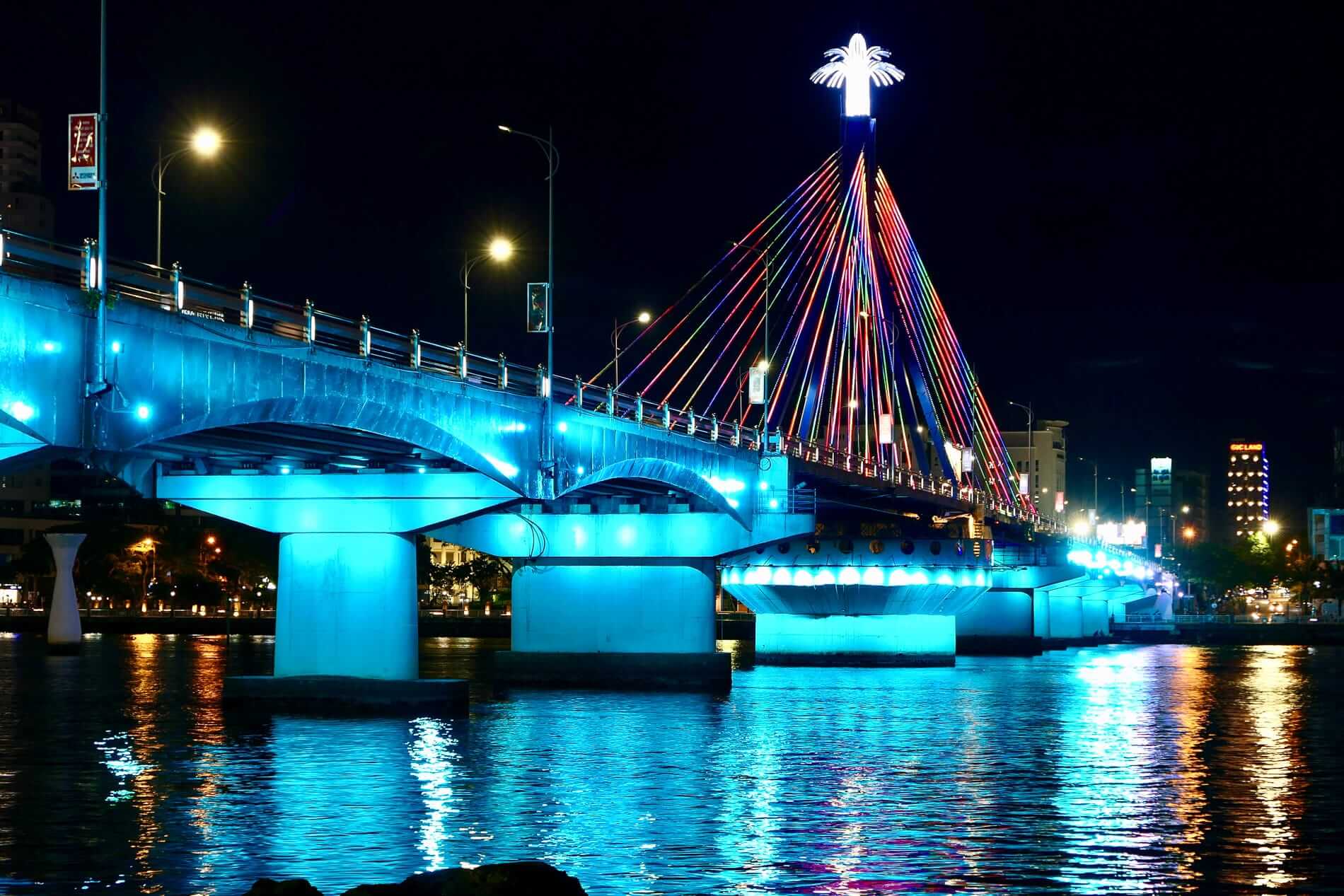 4. Go for a walk at Bach Dang walking street
Bach Dang Street is one of the most famous main roads in Da Nang. It has only one direction that runs along Han Rivers with the large sidewalk. Therefore, the road turns into a walking street from 7:00 p.m daily for the people who want to see the magnificent scenery of the Han River and discover the mirth of Danang nightlife. In addition, if visitors prefer shopping, there are many other shops, cafés, restaurants, hotels, and bookstores along Bach Dang Street.
Address: Bach Dang Street, Hai Chau District, Da Nang City.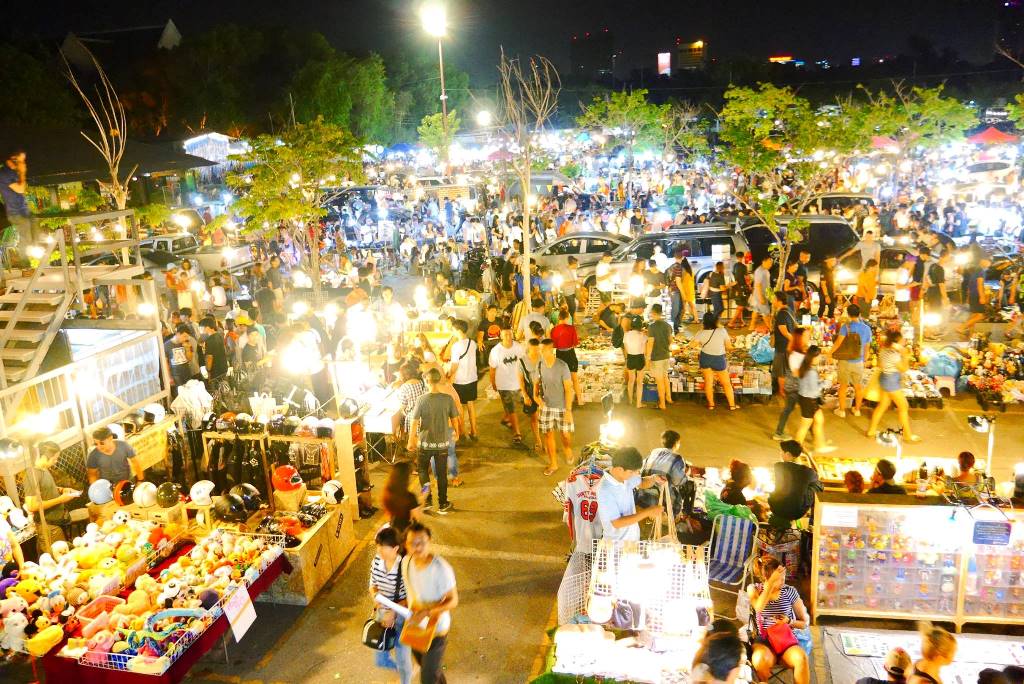 5. Visit Love Bridge and check-in at the marina
The Da Nang nightlife seems to be much more splendid at the Love bridge. This place has marked many promises of love when couples who come to Love Bridge often hang the locks on the walls of the bridge, as proof of their eternal love. In addition, at night, the marina glows with shimmering lights, becoming a great check-in spot for young people.
Address: No.481 Tran Hung Dao Street, Son Tra District, Da Nang City.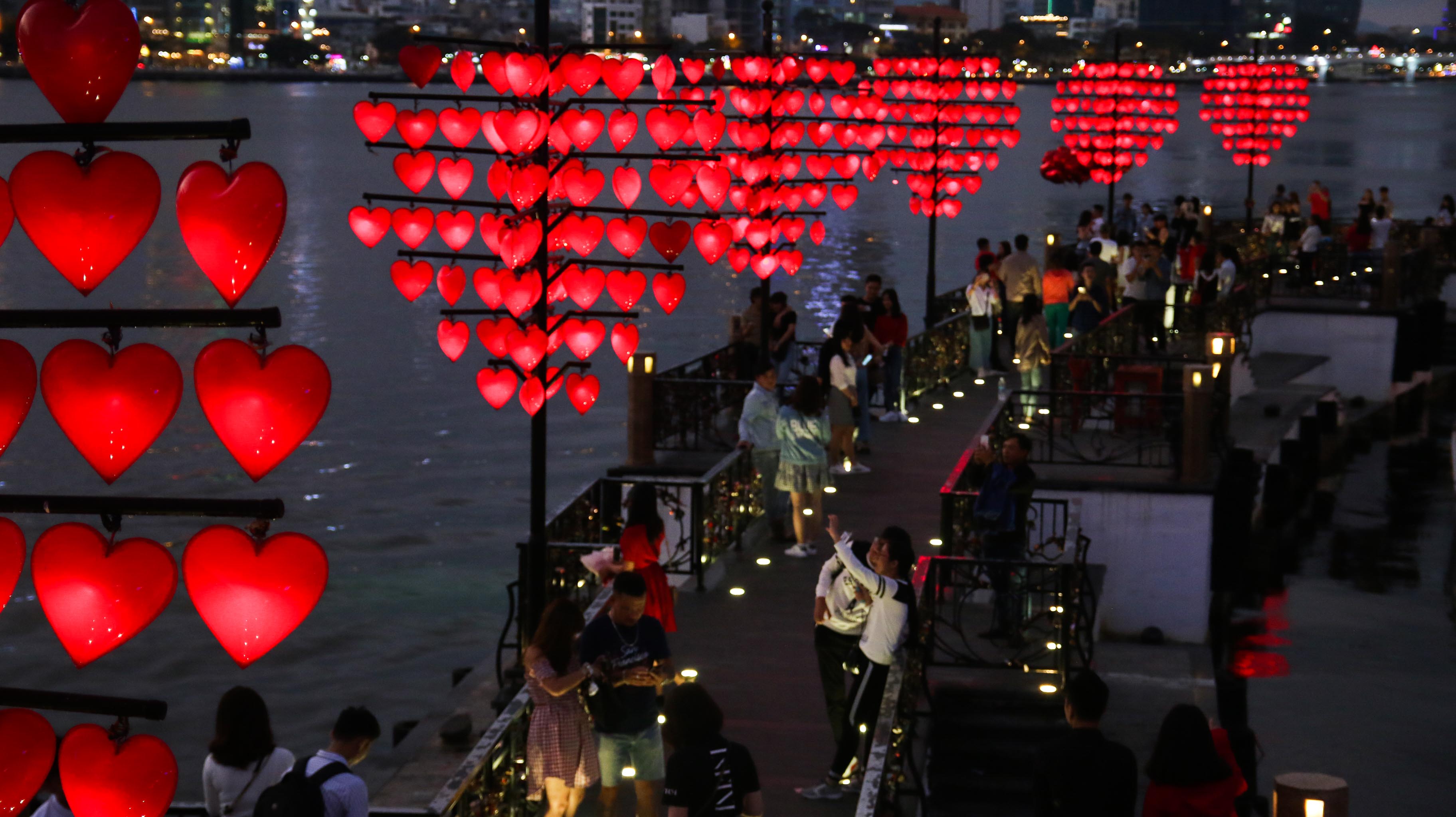 6. Sky36 Bar, Novotel Da Nang
This is one of the major attractions for visitors since this club is on the 35th floor of the luxurious Novotel. The club attracts lots of travelers who want to party to the living life in the Danang life. On the top floor is where people get a full view of the beautiful city including the Han River and the Monkey and Marble mountains. They accept all kinds of major cards as well as online payment options. The happy hours are from 6:00 p.m to 9:00 p.m on weekdays where you can avail Buy 1 Get 1 offer.
Address: No.36 Bach Dang Street, Hai Chau District, Da Nang City.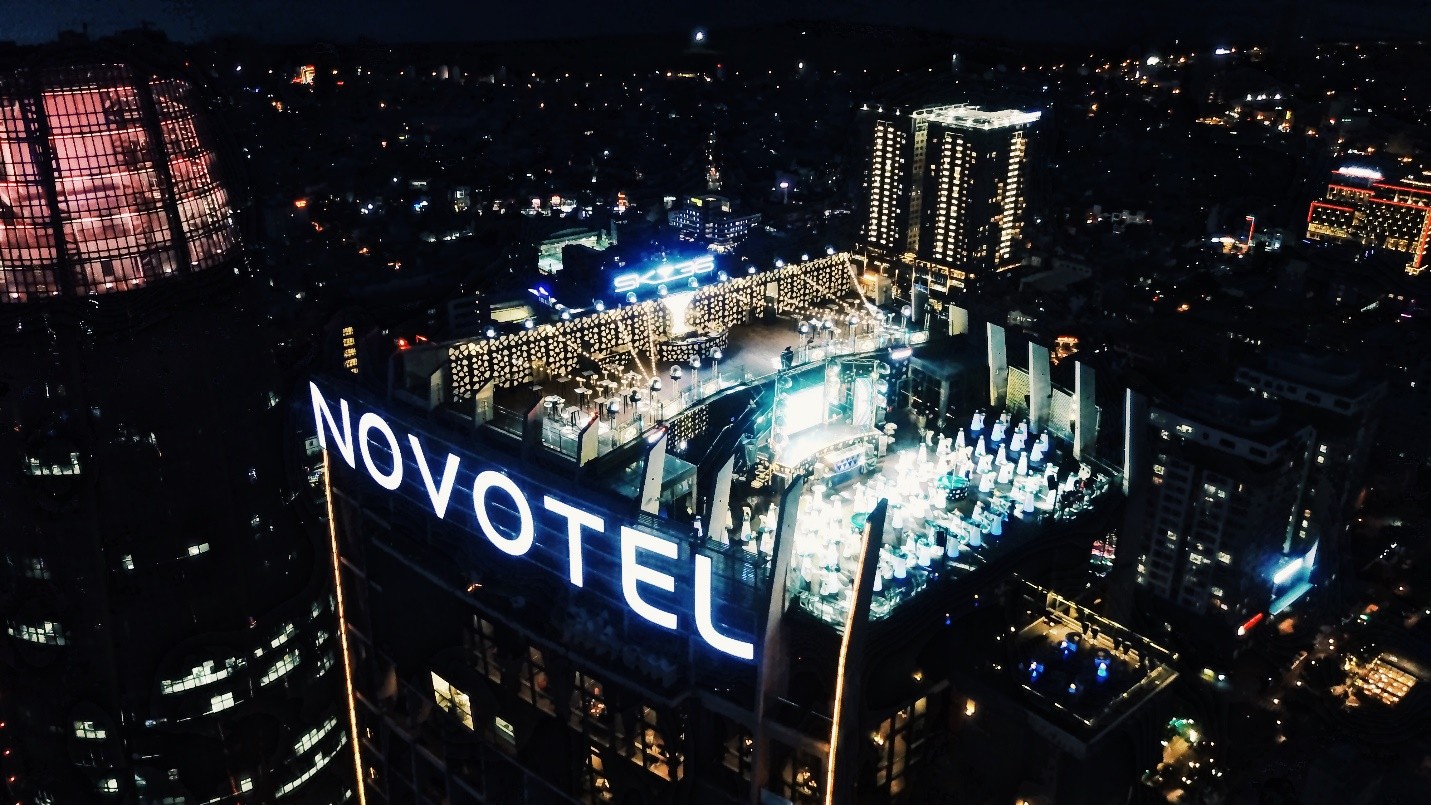 7. Entertaining at Asia Park
This destination is a combination of entertainment, food, and night markets. In particular, the park has a variety of games enjoyable and suitable for all ages from children, young people, couples and families with the service of more than 20 interesting games at the park.
Address: No.1 Phan Dang Luu Street, Hai Chau District, Da Nang City.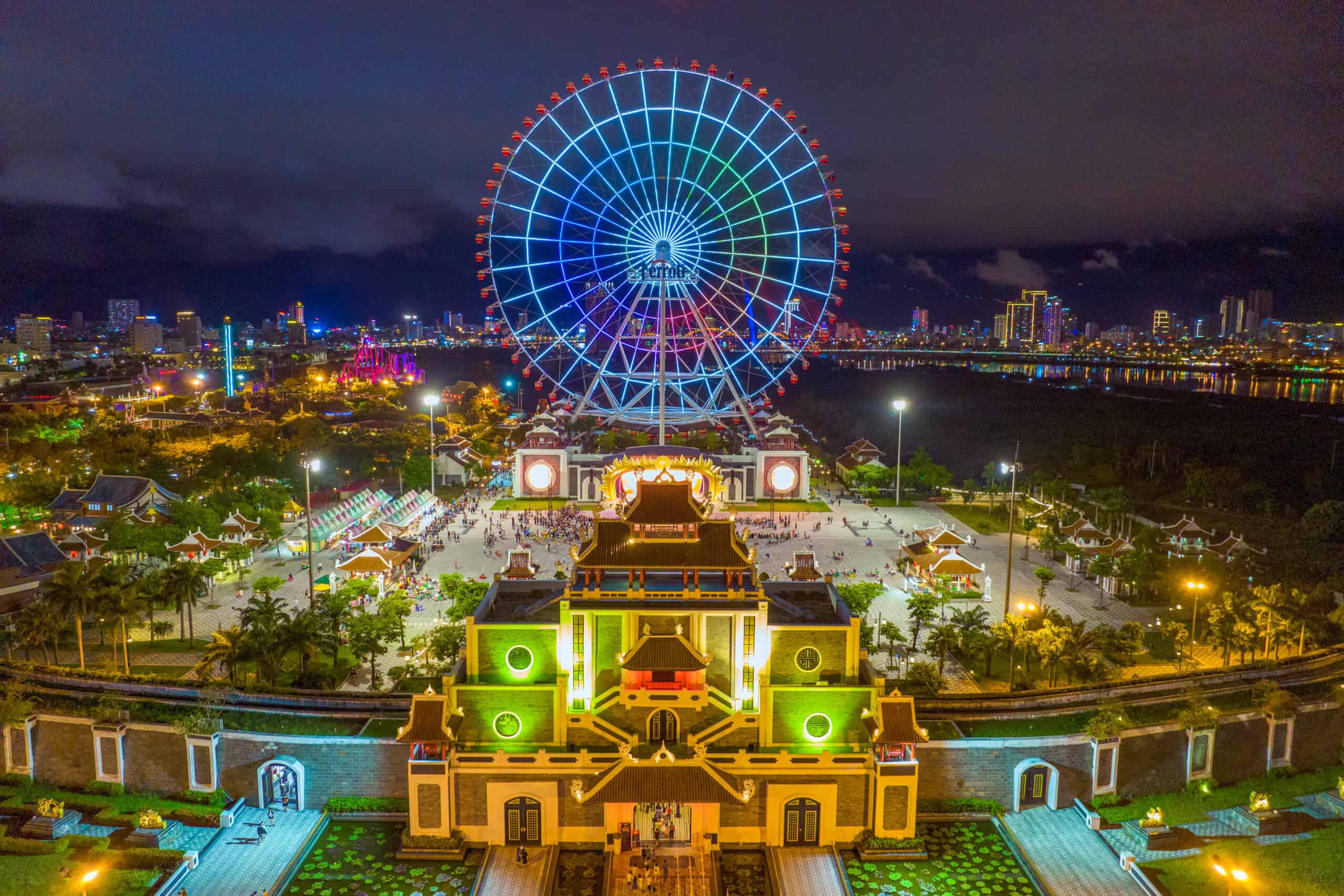 8. Having meals at Pham Hong Thai Street
Just walking around this food street in the Danang nightlife, people can taste the culinary quintessence of Da Nang and the Central region, with famous specialties such as Quang noodles, cabbage rolls, fried spring rolls, corn ram, snails, royal tea, smoothies, etc. There are also popular seafood bars for diners to sip while watching the street. This is really a delicious paradise in Da Nang for young people who have the delectation for feeling cuisine.
Address: Pham Hong Thai Street, Hai Chau District, Da Nang City.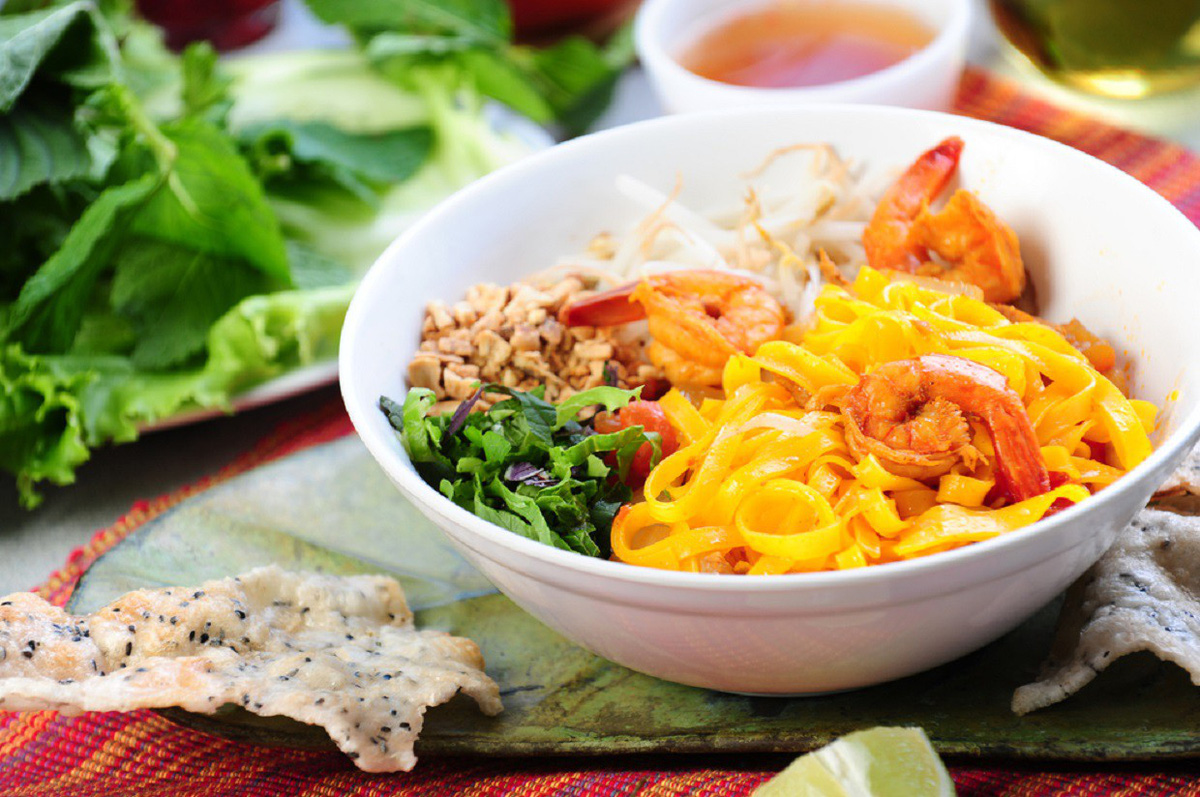 READ RELATED: Best Famous Local Foods in Da Nang