Discover Hanoi At Night
The capital of Vietnam is not only considered to be one of the friendliest and best tourist destinations globally but also worth discovering at night. Hanoi at night is exceptionally vibrant and energetic with crowded bars and relatively cheap beers. Not only the bars but even the pedestrian street, cathedral, nightclubs and food outlets are worth appreciation. GADT Travel is happy to recommend some places where travelers can fill their holiday in Hanoi at night with full of food, booze, and craziness.
1. Hoan Kiem Lake – Legendary Hanoi Nightlife Immersed in Songs and Poems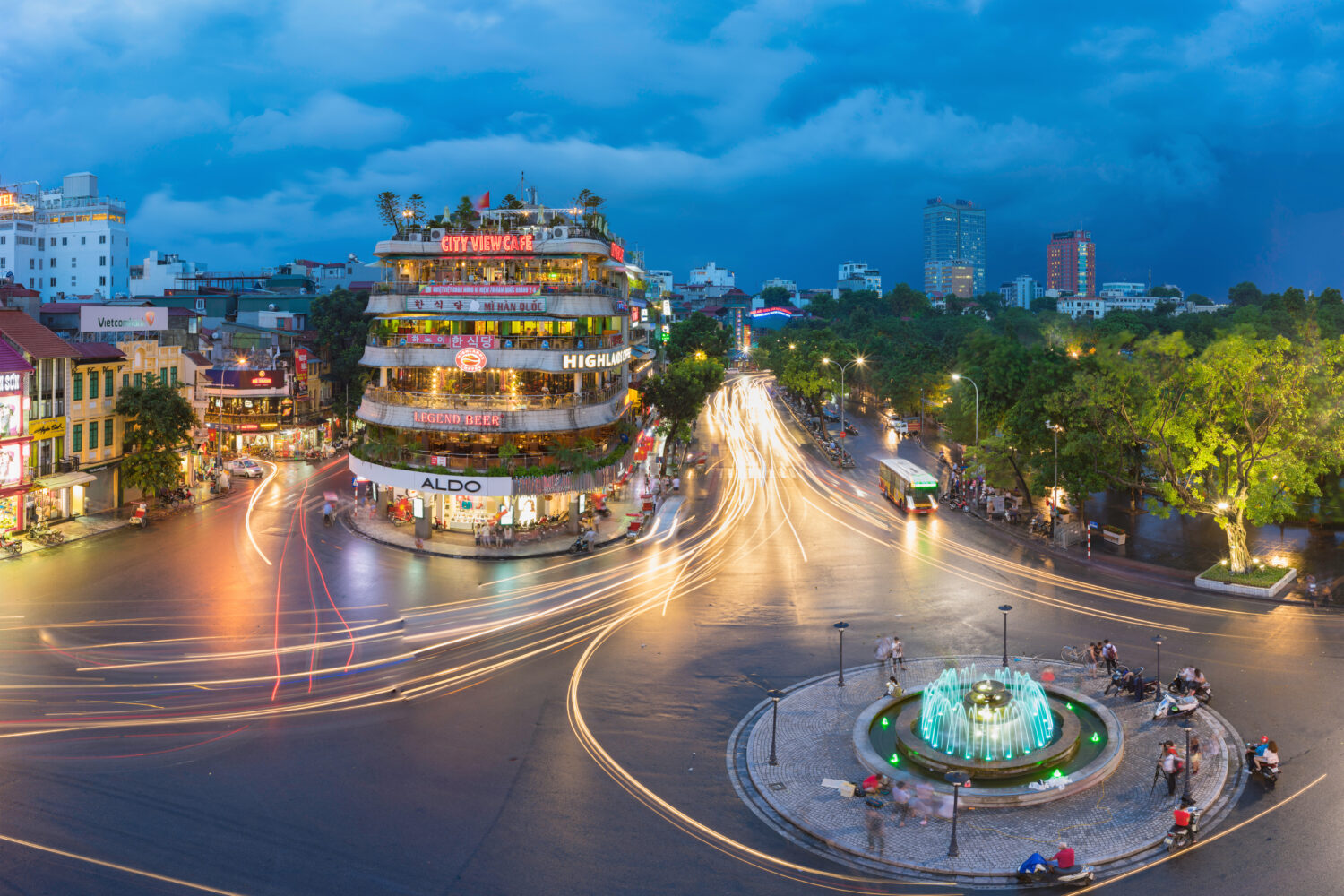 Hoan Kiem Lake is closely bonded with a lot of legends and myths. This is not only one of the "can not be missed" destinations in Hanoi nightlife for tourists but also an associated place that connects with the spiritual history of the city. On weekends (Friday night to the end of Sunday evening), the surrounded area turns into a pedestrian street with many activities occurring from music and dance performances to Vietnamese traditional games such as mandarin square capturing, tug of ᴡar, etc.
Address: Hang Trong Ward, Hoan Kiem District, Hanoi City.
2. Ta Hien Street – The Hanoi Nightlife Bia Hoi Junction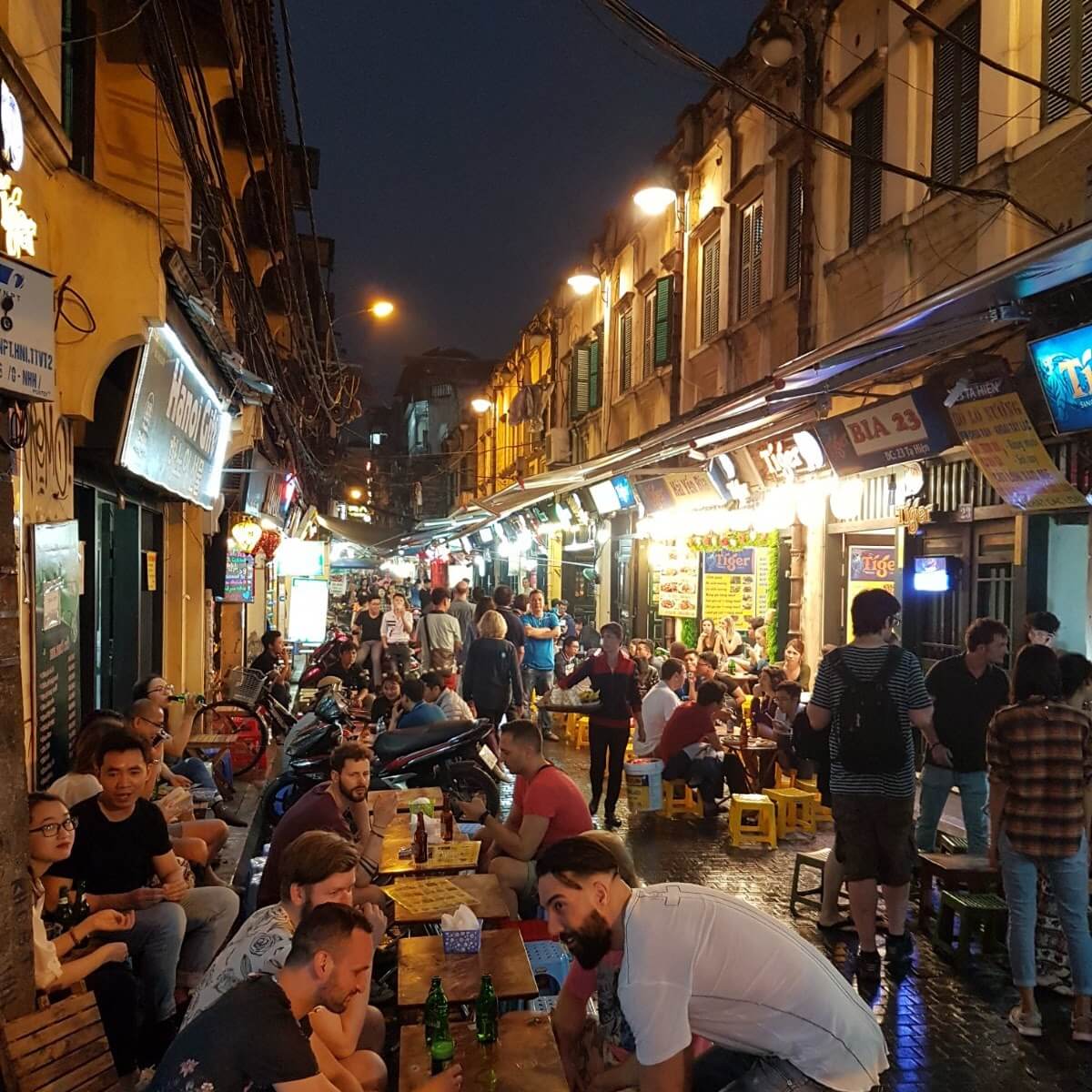 It is a small, 100 m long street amid the Old Quarter which is the most crowded and popular street in Hanoi. If Ho Chi Minh City nightlife has the famous West Bui Vien street, Ta Hien converges all the beauty of Hanoi at night. This street is known as the most valuable destination in Hanoi, as a crossroads between Asian and Eastern cultures, imbued with modern and liberal features, and with a subtle and ancient aftertaste. The image of young people or foreign tourists gathering to chat and sip cold beer has made a strong impression on people visiting Ta Hien for the first time. It seems that all language and cultural barriers have been erased. The unique feature of Ta Hien street that cannot be ignored is the lively pubs and bars, where travelers can fully live in the sublime moments with music and amazing drinks.
Address: Ta Hien Street, Hoan Kiem District, Hanoi City.
3. St.Joseph's Cathedral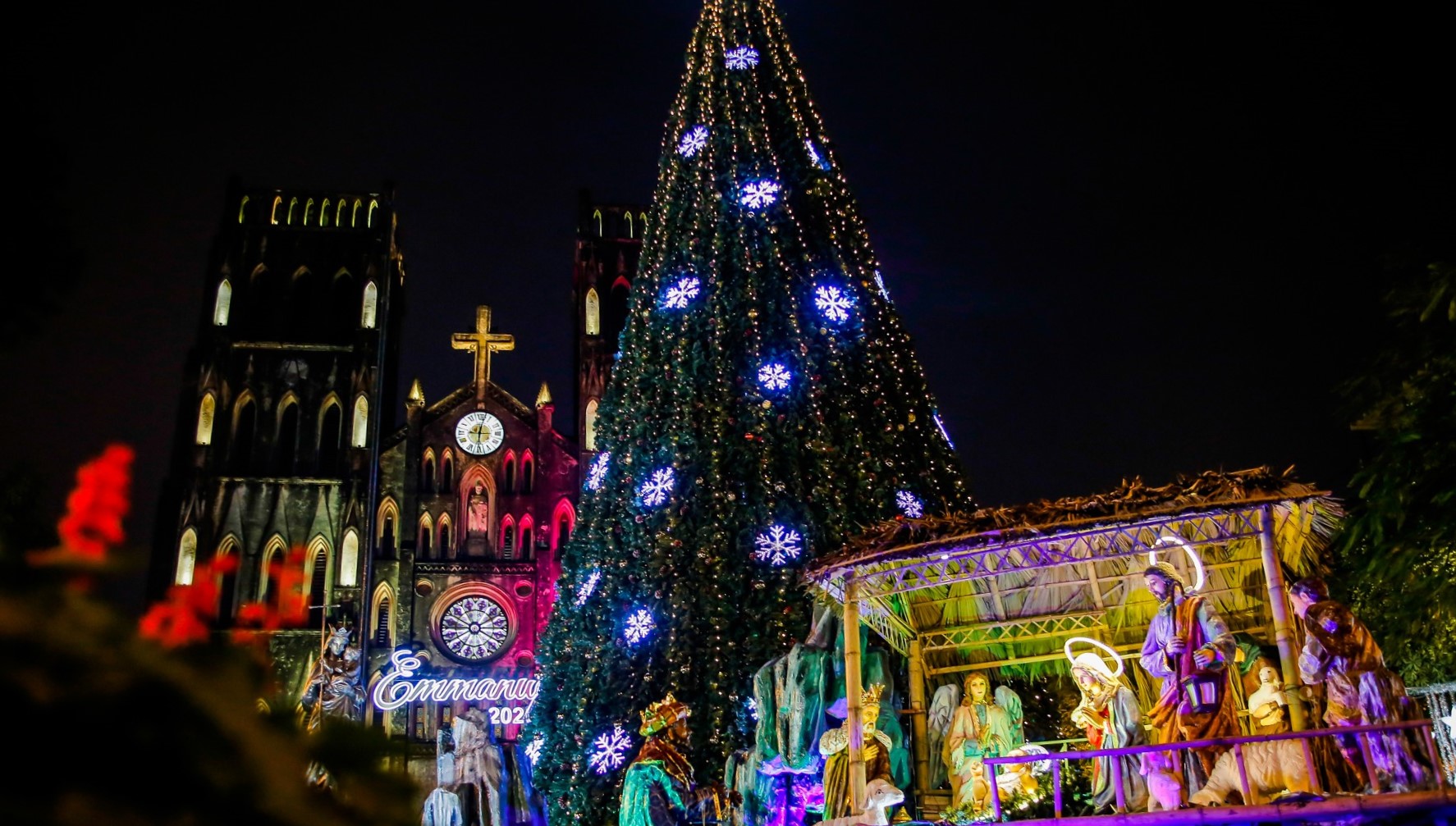 St. Joseph's Cathedral is one of the most visited destinations in Hanoi nightlife. The ancient gothic-style church is not the only highlight but the diverse menu of food around the church from all around the world. Surrounding the major church at night is the "Tra Da" paradise of Hanoi ("Tra Da" is Vietnamese tea with ice). People are able to sit here with friends from the afternoon, bite some sunflower seed, chit-chat and watch the shimmer of the whole street when nightfall.
Address: No.40 Nha Chung Street, Hoan Kiem District, Hanoi City.
4. 1900 Le Theatre - Best Place for Hanoi's Youth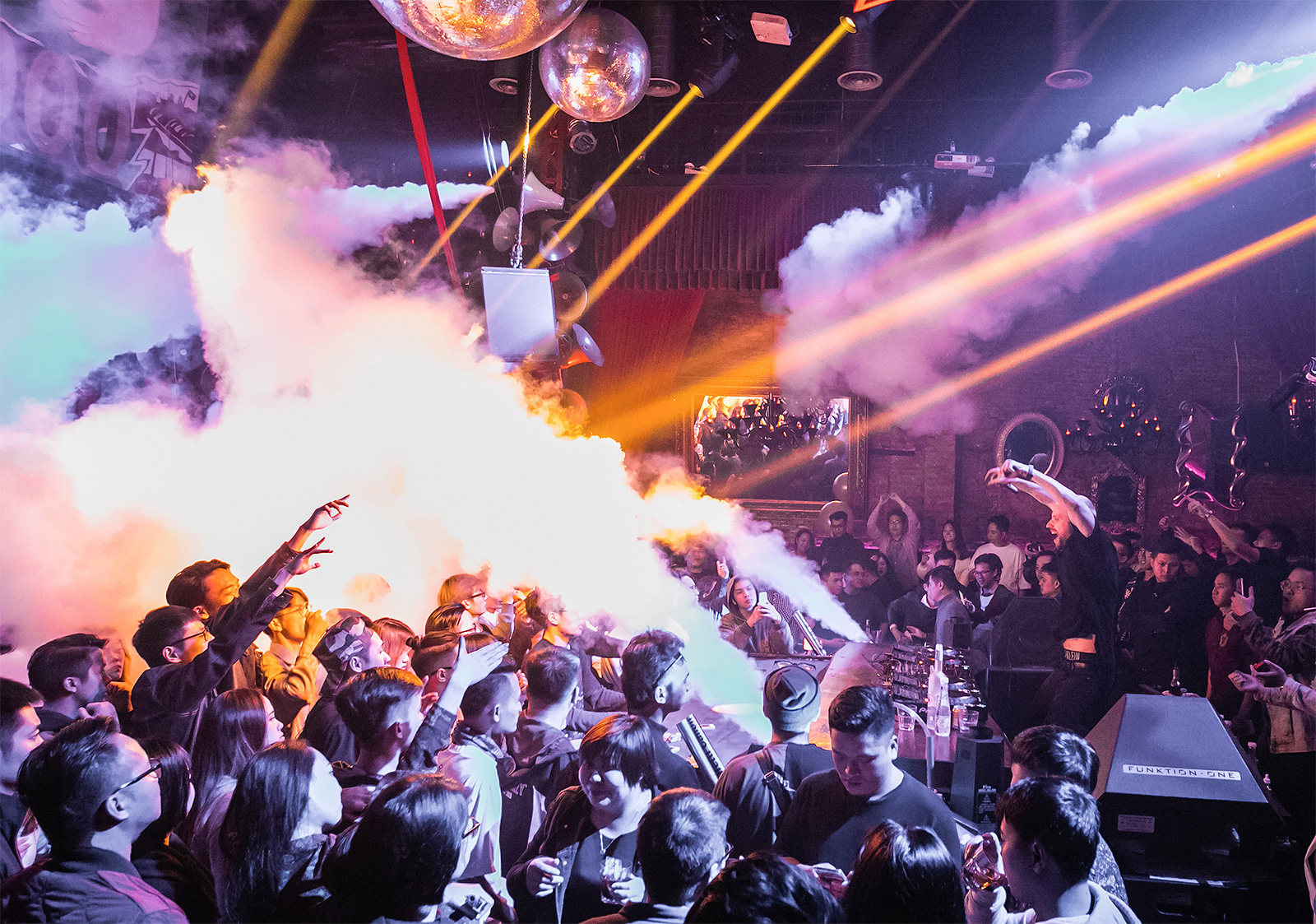 Standing on the remains of Quang Lac - a burned-down theatre, this Hanoi nightclub adds an element of oomph to the erstwhile laid-back scene. Complete with a DJ and a dance floor, this is undoubtedly the swankiest club in Hanoi at night. 1900 Le Theater provides modern services with a wide variety of drinks ranging from beer, soft drinks, and soda to spirits such as whiskey, vodka, champagne, etc. In particular, this is the venue of events with the hottest music performances. In addition, with the latest audio and visual systems, and the presence of famous singers on some days of the week will surely bring visitors moments of one of the best things to do in Hanoi nightlife.
Address: No.8B Ta Hien Street, Hang Buom Ward, Hoan Kiem District, Hanoi City.
5. Tong Duy Tan Street - "Lost" in The Food Street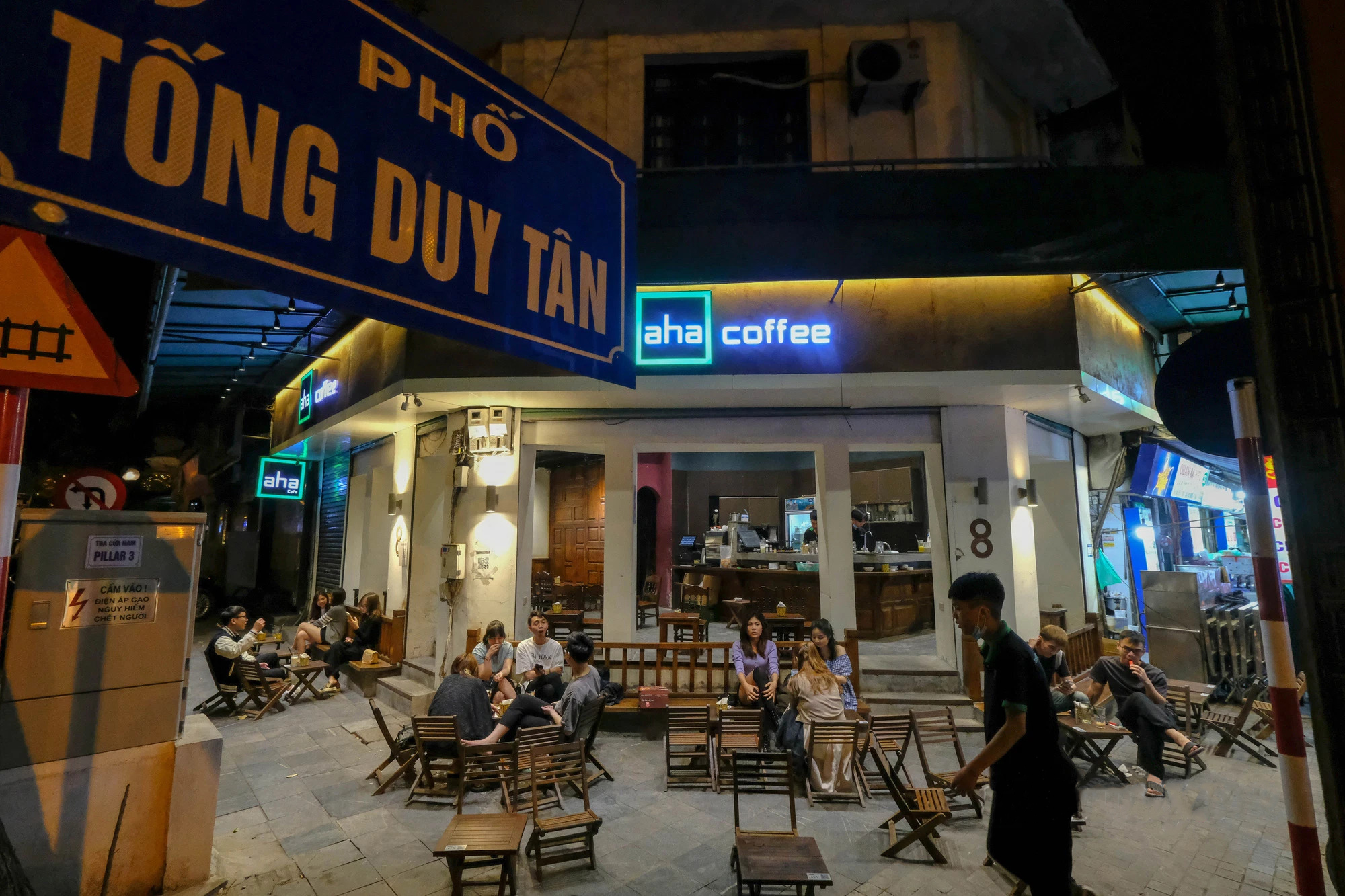 Although it is only about 200m long, the street offers a lot of delicious Hanoi dishes. Especially, located at the beginning of Tong Duy Tan Street, the intersection with Tran Phu Street, it is not difficult to recognize the "Pho duong tau" restaurant by the smell of fragrant broth from the street corner. This night restaurant has been around for a long time in Hanoi, specializing in beef noodles with all kinds of beef with bordelaise sauce and medium-rare beef. Besides the old restaurants with their own brands, Tong Duy Tan street also has a barbecue, hot pot, seafood restaurant and cafe that is also busy with customers with a fairly clean space and is open until late at night, which is suitable for tourists who want to experience Hanoi cuisine at night.
Address: Tong Duy Tan Street, Hoan Kiem District, Hanoi City.
6. Hanoi Rock City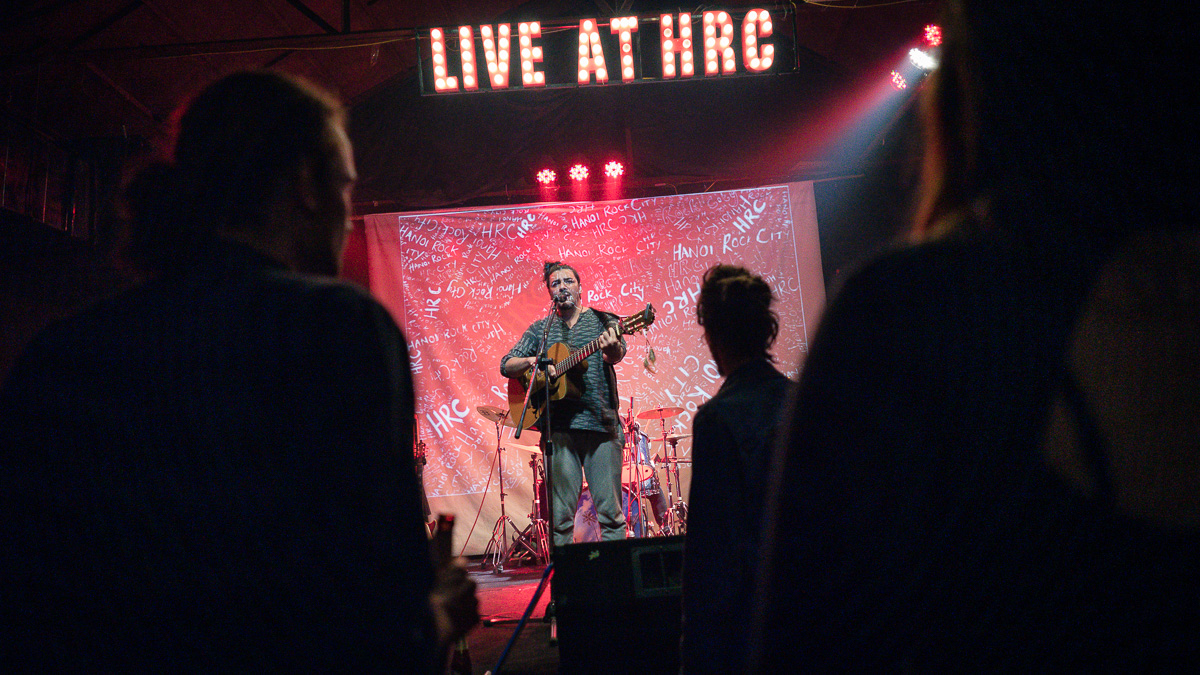 Hanoi Rock City (HRC) is the capital of Vietnam's very first and foremost independent live music venue. Founded in 2010, the spacious, multi-room venue consists of a huge, relaxing bar garden and a fully stocked live house with a capacity of 350 pax. HRC lies at the heart of Hanoi nightlife's live and electronic music scene, both in terms of depth and breadth of acts and events and in terms of quality of stage, sound and visual setup for live bands. If people are into good, original music or would simply enjoy an evening drink in one of the cities' friendliest, most dynamic and most diverse bars, HRC is a must-visit on the Hanoi agenda.
Address: No.27, Alley 52 To Ngoc Van Street, Quang An Ward, Tay Ho District, Hanoi City.
READ RELATED: Best Hanoi Dishes You Should Not Miss